Fireplace Walls Needing A Little Love - Two Consultations
These two consultation clients needed some design direction for their fireplace walls. Both needed an overall design for the wall with some extra cabinets or shelving.
Take a look at what I recommended. These were done via my email Q&A service, Designed in a Click.
Consultation 1 - redesigning fireplace wall
This homeowner wanted to minimize the Tuscan look in her home and was looking to totally redo the fireplace wall.
She wanted to know if she really needed a mantel and was thinking of doing the whole fireplace wall protruding forward there in tile, turning the tile to the inside corner back to the back wall.
Heres the pic of her fireplace wall.
Fireplace wall to be redesigned - The traditional, Tuscan look was no longer appealing to this homeowner.
She was also planning to remove the bookshelf unit and wondered about floating shelves and materials, etc.
She had used Taj Mahal quartzite recently on her kitchen counters and splash and had some left over, and was looking to use it on the hearth or bookcase counter.
Here was her kitchen that was open to this family room with the fireplace wall.
Kitchen with new Taj Mahal countertops and splash that was open to the family room and fireplace wall.
Heres what I recommended for her fireplace wall.

You don't need a mantel for the aesthetics, but you might need it for code reasons in your area with the fireplace below and tv above.
There is a recommended height there above a firebox, it depends on your area. If you have a mantel, then one that projects out a bit can help that issue. Check with a local contractor on that.
Regarding the aesthetics, I like that something would clad this whole section because it is kind of wide and not too tall compared with the size of tv and location of firebox you have.
Since the tv is going to be a bit bigger, how about camouflaging it somewhat with a dark finish wood paneling, cladding that wall?
Then you can use your left over Taj Mahal slab on the surround immediately around the firebox and on the hearth top.
Sketch for Fireplace Wall Design Recommendation
I did that in another project, pic below, and it turned out great.
We used wood flooring to clad the fireplace wall, actually, because we liked the particular finish of that plank, but you can do a planking and just stain it to match your kitchen cabinets. That way it will tie the space together.
You can see in the more finished pic of that job, shown below, with the big tv mounted on the wood paneling, it really minimizes the look of the tv.
Construction pic - Wood flooring was used to clad this fireplace wall and provide a backdrop for the large tv. A quartzite slab surrounds the firebox. Designer: Carla Aston
TV mounted over fireplace with wood flooring paneled fireplace wall is camouflaged on top of the dark wood planks. Designer: Carla Aston
More about the fireplace wall shelving
I would then do some beefy, maybe 2" thick, floating wood shelves in the niche to the right. If you need a place for the tv equipment, then a closed section at the bottom there would be fine.
Another option would be a wood-look porcelain tile that could go all the way up to the firebox, with no Taj Mahal slab surround needed then, just perhaps on the hearth.


I liked having some wood elements on the fireplace wall that would relate to her kitchen, which has that same stained wood. It will look more up to date, however, than the mantel with the chunky columns, that is there now.



Consultation 2 - How To Design the Shelving around this fireplace

This living room was also open to a kitchen with dark wood cabinets. The homeowners put in a new fireplace where there previously was none. They intended to hang the tv above the fireplace, but were concerned about materials and some built-ins.
Obviously, the fireplace isnt completely covered up yet above the firebox, but it is installed, so you can get the idea here.
We talked about doing some kind of tile cladding over the whole fireplace section there, returning on the sides.
I showed her images of one job where we did a small stacked stone look and then a mantel in a reclaimed wood piece of lumbar, pic below. While I wouldnt recommend the rustic feel here, I preferred the wood to work with her kitchen cabinet color, I like the balance of mixing light and dark here on this wall.
Light, neutral stacked stone covering the wall of the fireplace in this remodel project that was under construction at the time. A rustic mantel will be installed and tv mounted over the fireplace.
Rustic mantel installed at fireplace wall with light, neutral stacked stone cladding.
I also showed her this previous job where we did a similar look at the fireplace. This one was a gray tone. I liked staying with a creamy color stone or tile in her situation, to work with her color scheme.
Fireplace wall with natural stone tile cladding fireplace, tv mounted above mantel. Grasscloth installed in backs of bookshelves. Carla Aston, Designer
In this consulting project, I liked the dark wood balancing the composition of the wall, on both sides of the fireplace.
A textured grasscloth wallcovering could go inside the back wall of the cabinetry, with some picture lights positioned on top of the bookcase to light the shelving. That would make that dark wood not appear so heavy.
I like how the overall geometry works with the dark and light combination here.
A full height tower with closed cabinets for tv equipment, on the right, serves both functional needs and aesthetic in this instance. It balances the wide built-in on the left.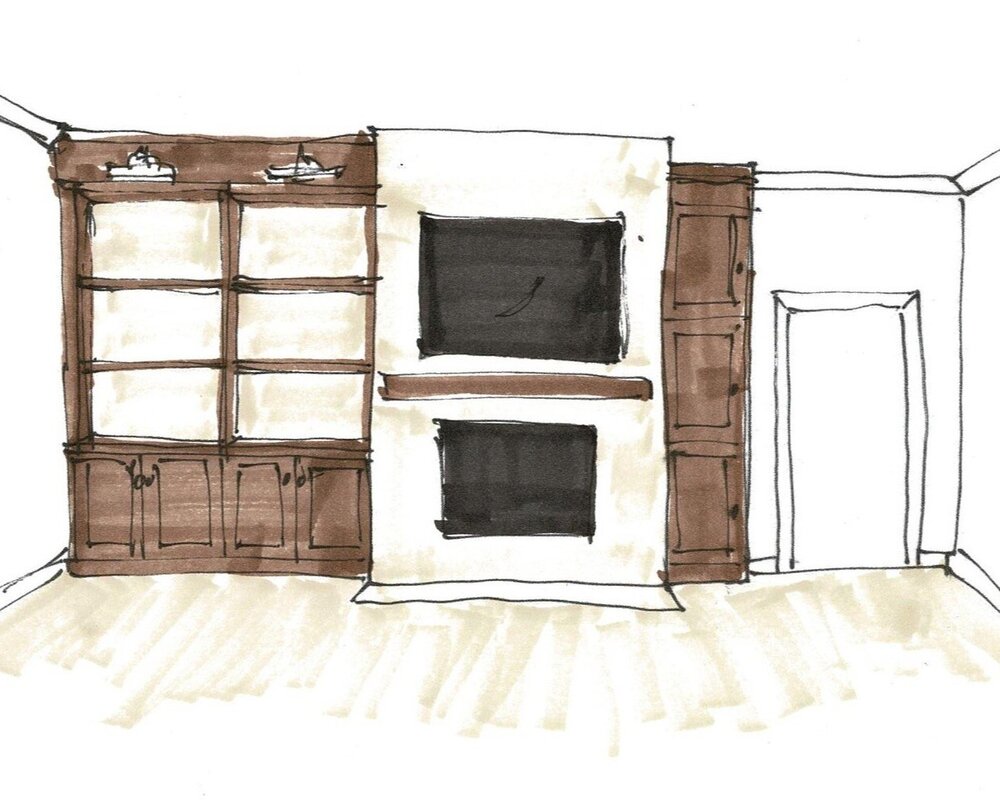 Sketch for Fireplace Wall Design Recommendation
ONE LAST DAY TO VOTE!
Then Ill stop bothering you, I promise! The Design Hounds contest is coming to an end this afternoon (Sat, 18th) at 5:00. My fellow hounds are out all over social media getting votes, and Im trying to tone my requests down a bit.
This is soooo not in my nature, I dont even ask clients for reviews. :-)
So, one more time? If youve voted already, thank you so much! And please vote again! You can vote every 24 hours, so I need it just one more time today. :-)))))
Click the button below!

PLEASE VOTE FOR ME! :-)
Designed in a Click Consultation Service


I just opened my Designed in a Click consultations back up, after being closed down for a couple of months, end of last year. I fractured my wrist last October and typing has been a challenge, so I was trying not to get too overwhelmed with keyboard type work. :-)
They are back open now, although I wont be starting any new ones till after my trip to KBIS next week. :-)
(Connect with me on Instagram to see real time updates from the national kitchen and bath show floor!)