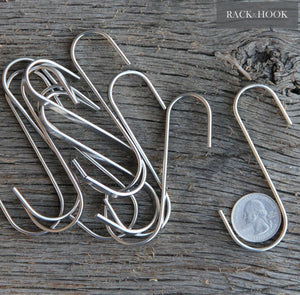 10 Pack 3 Inches Flat Brushed S Shape Chrome Finish Stainless Steel Hanging Hooks for Kitchenware, Pots, Utensils, Plants, Towels, Gardening Tools, Clothes
Beautify Your Garden, Tidy Up Your Kitchen and Organize Your Garage… These Utility Hooks Go Anywhere with Ease.

Organize with Style: These hooks go anywhere perfectly and help you tidy up your home with ease.
Organize your entryway, hallway, mudroom, bedroom closet, bathroom, kitchen, garage, etc.
Turn your home into the ultimate cozy spot for all your gatherings, and work more efficiently when you can find everything you need at your fingertips.

Affordable Storage Tool: This bundle offer will give you the opportunity to get more for your buck.
Turn your wire shelving, curtain rod or wall rail into a more functional tool by utilizing these hooks along with your storage solution.

Great Gift Idea: You can make any crafty person, friend or family member happy with the purchase of these hooks.
These can be utilized to everyone's creativity and turned into a work of art without any hassle.

The Flat Design S Shaped Utility Hooks Will Help You To: Organize your garage, kitchen, gardening supplies, cooking supplies,
or use it as an entryway organizer to turn it into the ultimate welcoming space.

Specifications:
Material: Steel
Color: Chrome
Product Dimensions: H 3†Arc 1â€

What is in the Package:
10 Multipurpose Flat S Shaped Utility Hooks
Product Features
Large Utility Hooks: The 3 inch and flat design goes anywhere perfectly to help you hang everything you need easy to reach at arm's length. The 10 hooks are high-quality and functional enough to use anywhere in the home.
Multipurpose: With these hooks you can organize your kitchen, create functional storage space in your entryway, tidy up your linen closet and do so much more without wasting valuable time getting everything together in one place.
Space Saver: Hang this on a wall rail or any wire shelving unit to make your life easier in the kitchen. Free-up counter space to work more productively and hang your pots, pans, utensils, apron, oven mitt and glove, so you won't have to go spelunking in your corner cabinet.
Closet Organizer: If you utilize these hooks on your clothes bar you can use limited closet space efficiently, the hooks are great for hanging scarves, belts, jewelry, ties, or other accessories with ease.
Beautify Your Garden: Turn your backyard into a botanical garden and a place you can enjoy with family and friends. With these hooks you can hang your wind chimes, planters, flower pots, lanterns, candle holders and bird feeders.