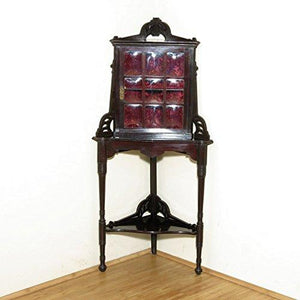 Brand: Antiques
Features:
Very dainty
Good quality
Dark mahogany
Publisher: Antiques
Details:
Dimensions:52H 24W 15.75D
Description:Very dainty, good quality, dark mahogany Edwardian corner cabinet, the single door is fitted with original nine Εbubble glass panes, surmounted by a fret pediment. The cabinet stands on a turned leg base fitted with a lower shelf and is supported by fret brackets.

Condition: This piece may have some age appropriate scratches & minor signs of wear but it is overall in excellent condition.
EAN: 9094519976148