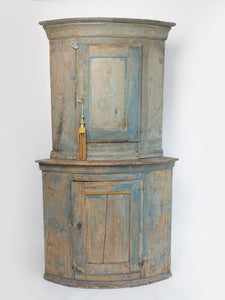 Antique 18th Century Swedish Corner Cabinet with original paint
Amazing Swedish two piece corner cabinet, in its original Swedish Blue paint finish with traces of its original painted floral design. This piece has a top cabinet with spoon shelf, a larger shelf and a "secret drawer" which can only be accessed when the top door is open. The original lock is missing but there is an old key for decorative purposes. The tassel is not included in the sale but can be purchased separately.
The bottom cupboard also has one large shelf and does have its old lock and key in situ. There is an old crack in the front panel where the wood has split at some point but it has been glued back together. Some repairs have been made to the back of the bottom cupboard, but obviously, these are not noticeable once the cupboard is in situ. I have photographed this so you can see where the repair has been made. 
This cabinet breaks down into two pieces for ease of transport and movement.
Measurements: Height 184cm, Width 105cm, Depth 72cm
This Cabinet would need to be collected from our shop in Hurst Green, East Sussex or Special Courier Delivery would have to be organised. Please contact us should you require a delivery quote: sales@decorativeantiquesuk.com