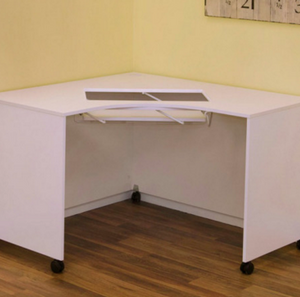 Modular Corner Cabinet
Grouped together the 4- Piece Modular Line allows for an "L" shape configuration lining a wall and corner taking up the least amount of floor space in a room.  If you don't want to line the wall, pull the units out and place them in your room where ever you want them. You can buy the units you need and place them to fit your room and your desires.


The Corner Cabinet features a manual 2-position mechanism to move your sewing machine/serger up and down into freearm or flatbed position.  The lift will support a 45# sewing machine and the opening is 24" w x 12" d.  The unique shape of our Corner Cabinet allows it to fit the radius corner of your room, taking up as little space as possible.  The sewing well is positioned to the front of the unit allowing for ample space behind the machine to support fabric.  Remove the sewing machine from the well and place the wood cover (included) over the opening to create a perfect flush surface for other projects or to use the unit as a desk.
The Modular Corner Cabinet rests on casters allowing you to move it from place to place. Once in place the casters lock down in place.
Dimensions:
46-1/2" right to left corner x 39" d x 30" t




Sewing Machines that are too large and do not fit this cabinet: Baby Lock Destiny, Brother Dream V8500D. 
Janome 15,000 and Elna 920 e Xpressive fit the platform, but your knee lifter cannot be used.