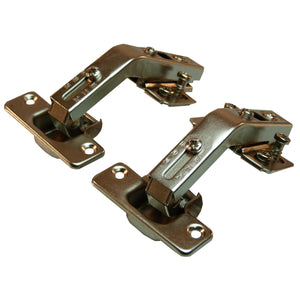 Tutti nickel plated Bi-Fold Corner hinge is used for connecting a second door to another door already attached to the cabinet with a 170 degree hinge, this allows you to have full access to negative inclined corner cabinets. The opening angle is 135 degrees, using the supplied mounting plate will position the door both outside corners of the doors together +/- 2mm adjustment.
The centre of the 35mm hole is generally 22.5mm from the edge of the door, the mounting plate comes with pre-mounted euro-screws that require a 5mm diameter hole, they can be removed if not required, the fixing position for the plate is 37mm in from the front edge of the cabinet side.
These hinges are designed for door thickness 14 - 22mm and fit into a 35 x 11.5mm hole, the hinges have 3 way adjustment allowing perfect alignment, they are mainly found in kitchen and bedroom furniture. 
Tools & fittings for the job
Other Angled Hinges