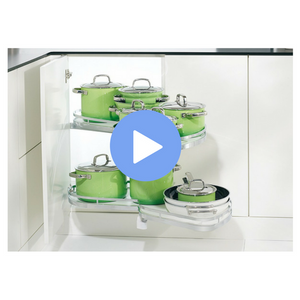 The perfect solution for Blind Corner Kitchen Cabinets
Soft closing mechanism free of charge
20% more storage capacity than the original Lemans
Max. load bearing capacity per shelf (55 lbs) 25 kg
Innovative mounting jig included; no measuring required
Take advantage of your kitchen's blind corners with the LeMans II Set by Kessebohmer, ideal for blind corner cabinets so you can save more space. The impressively flexible, LeMans II Set is supplied with 2 trays, 2 posts and also includes 2 soft closing mechanisms free of charge. The shelves are height adjustable every 2", the minimum cabinet height should be 21 1/2" and the load-bearing capacity is 55 lbs (25 kg) max. per shelf. The product continues to function fully and conveniently even when the front panels are opened to an angle of 85°. For full height door and door/drawer applications. The shelf is melamine and the surround is steel. Please consider if a filler strip is needed based on your application. The LeMans II Set has 4 different versions 574 sq. in capacity (with 2 x 40 shape trays) 723 sq. in capacity (with 2 x 45 shape trays), 884 sq. in capacity (with 2 x 50 shape trays) and 1057 sq. in capacity (with 2 x 60 shape trays). In Chrome/Maple. Optionally you can purchase the LeMans II Set Highboard if you need more shelves.