10 Outdated Kitchen Design Features to Address When Remodeling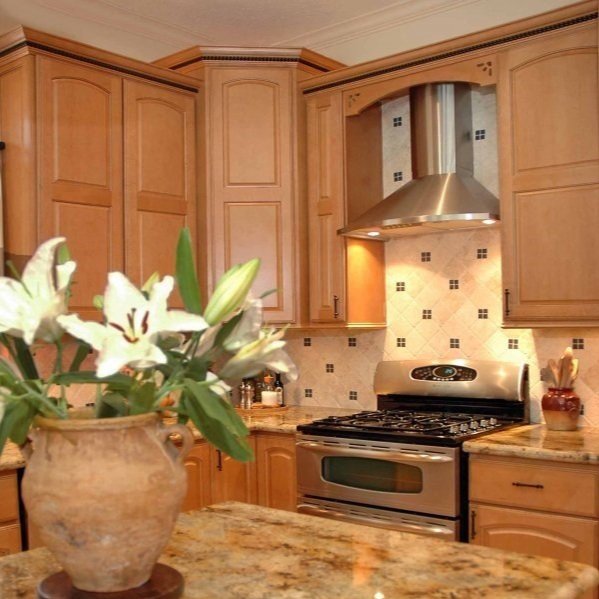 I get a lot of questions about kitchens in my Instagram Q&A sessions and I see many of the same outdated kitchen features that homeowners are trying to deal with.

Often times people only want to partially remodel. I understand, remodeling is expensive, messy and time consuming. It isn't an easy process, especially if you are trying to squeeze the most bang for your buck out of it.
However, if people have these following features in their kitchen, I do recommend they address them in the remodel because otherwise you might be disappointed in your result. These features really telegraph a dated or lower end kitchen and if you are spending a lot of money anyway, it is a shame not to get rid of the elephant in the room.
Now, you may have one or two of these features causing you to want to update, or you may have more. Obviously, you have to weigh what bugs you the most, what you can afford and make some decisions about priorities if you are doing a partial remodel.
10 Outdated Kitchen Design Features To Address When Remodeling
Short upper kitchen cabinets

Varied height upper kitchen cabinets

"Framed" look tile backsplash above cooktop or range

Wonky kitchen island or peninsula

Venting microwave over cooktop or range

Refrigerator not framed in with cabinetry

Spotty granite countertops

High divide kitchen sink

Heavy traditional details like rope trim, fluted mouldings, highly detailed corbels and curly decorative onlays.

Fluorescent lightboxes and dated light fixtures


1) Short Upper Cabinets
I saw an influencer on TikTok ask if she should leave her cabinets as wood cabinets or paint them, since wood cabinets are coming back in style. Either way, her short upper cabinets telegraphed the dated look of her kitchen and painting those without addressing the heights would likely make her kitchen still appear dated.
With these kitchens, below, I felt that not addressing the height was going to be a regrettable decision in their remodel.
Here's a kitchen, below, where the cabinets were almost to the ceiling, about 12"-15" away. We were doing a partial remodel where the cabinets would be painted, so modifying them by adding a section on top to go to the ceiling, was totally doable. See the results, below.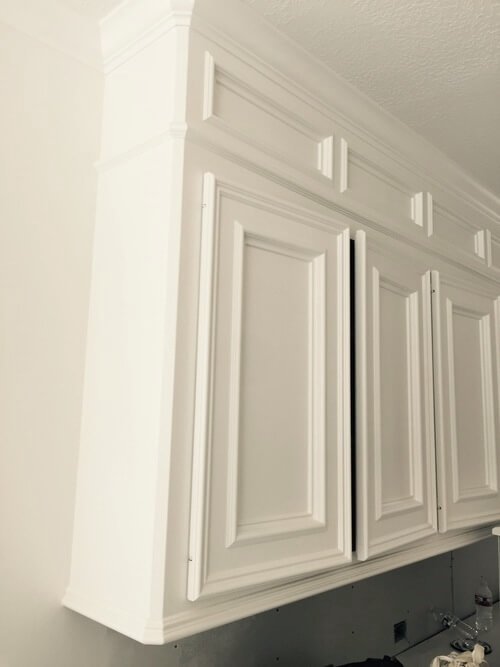 This project was done over 10 years ago and was wildly popular on Pinterest. You can read my blogpost about the project here.
2 ) Varied Height Upper Kitchen Cabinets
Usually kitchens that have varying height uppers have some short cabinets, so this a problem both ways.
This was a trend in the 2000-2010, as builders were coming around to making kitchens look higher end. Offering multiple heights were a way to make a kitchen look custom. People were just not taking cabinets to the ceiling yet.
I'd actually prefer dealing with short cabinets all one height, because then you can add cabinet boxes on top of those. With varying heights, it makes it more challenging to be able to reuse these and not have it still look dated.
Especially if you have dark cabinets and light walls, it just looks choppy.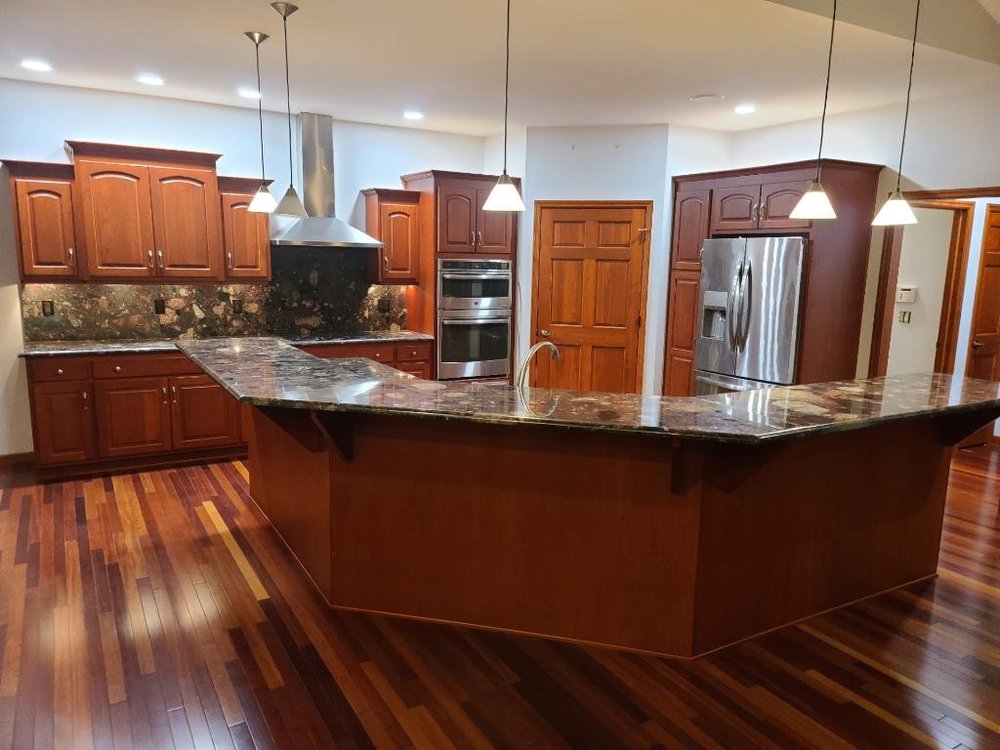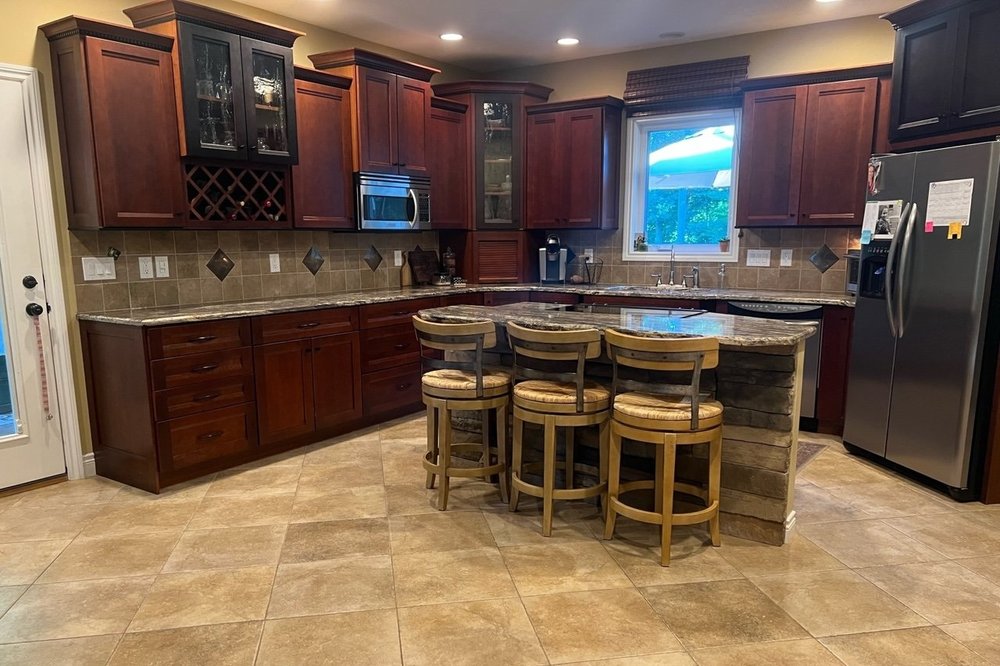 The one instance where upper cabinet heights can be sometimes be addressed without changing them all is if they are at least 42" tall and you can do a taller hood or taller refrigerator and oven tower cabinets.
3) backsplash w/ "Framed" look, 4 x 4 travertine with dots, linear glass tile mosaic

With regard to the "framed look"…..yes, I've been guilty of this in a project or two, back in the day. However, I have not done this on a job in years as I now prefer a cleaner look in a backsplash, which is very on trend.
I'd also redo a backsplash that had the "dots" look, kind of a Tuscan style with travertine we did back in the day. After that came the glass linear mosaic, which I would also update.
Luckily, if you have any of these backsplashes, they are not the most expensive feature in the remodel. Also, if you change your countertops you will likely change your backsplash and usually countertops are some of the most often requested changes and even THE reason for a kitchen remodel in the first place.
I usually recommend that a backsplash is the place to add color or go a little trendy because it can be less pricey than even having a professional paint job on your cabinets. It usually makes a big difference, visually, too.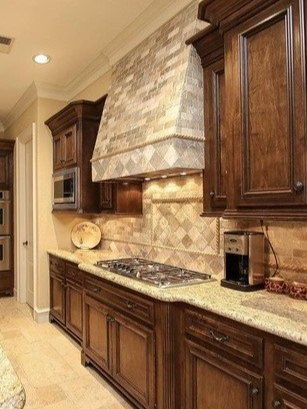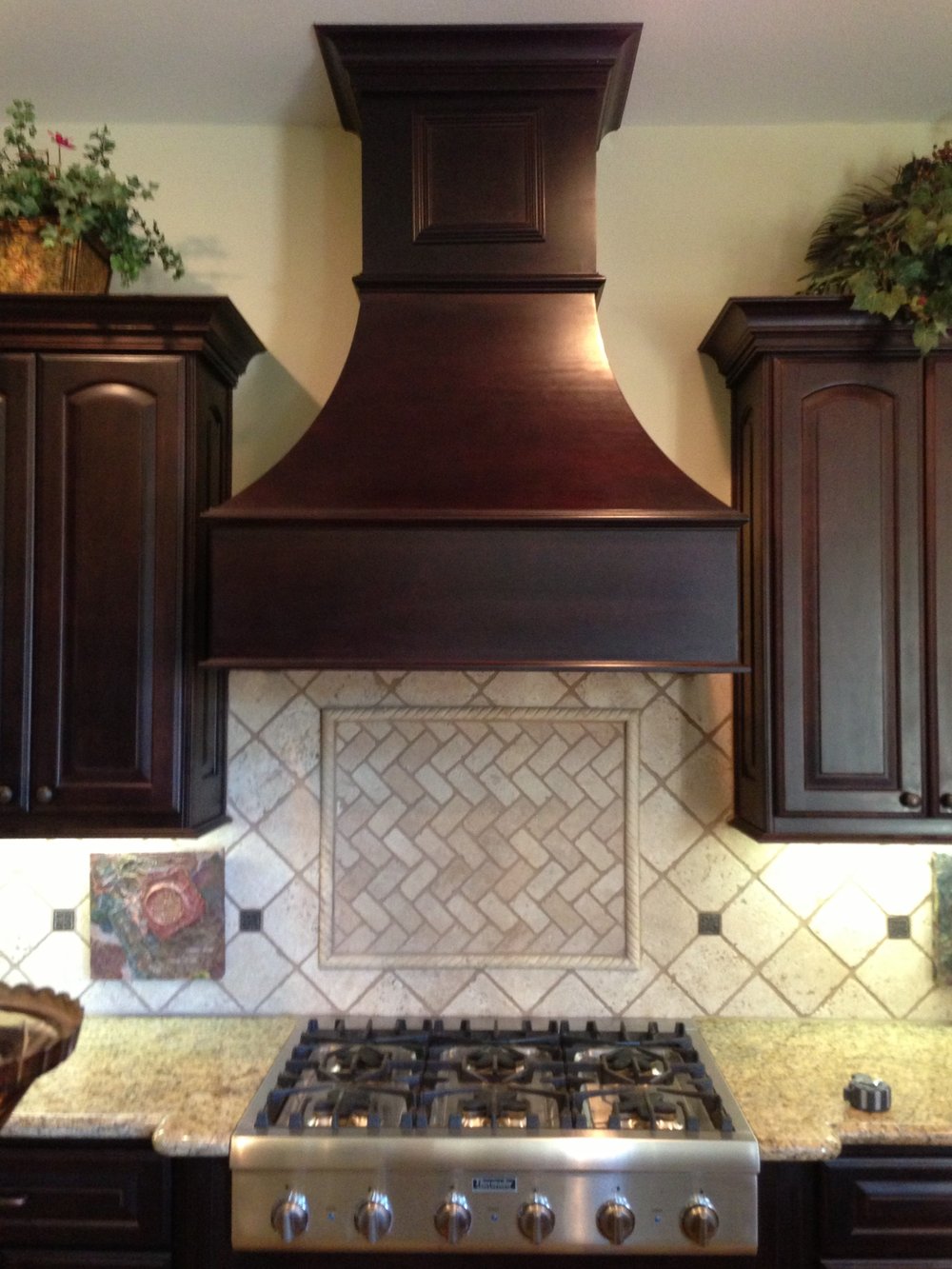 4) Wonky island or peninsula kitchen
I have seem some doozy kitchen islands. I think this is the place where many builders let their carpenters get after it on the job site, following the perimeter cabinet layout. I always prefer an island that is a more traditional shape.
Here's an island below that had to go in this kitchen remodel.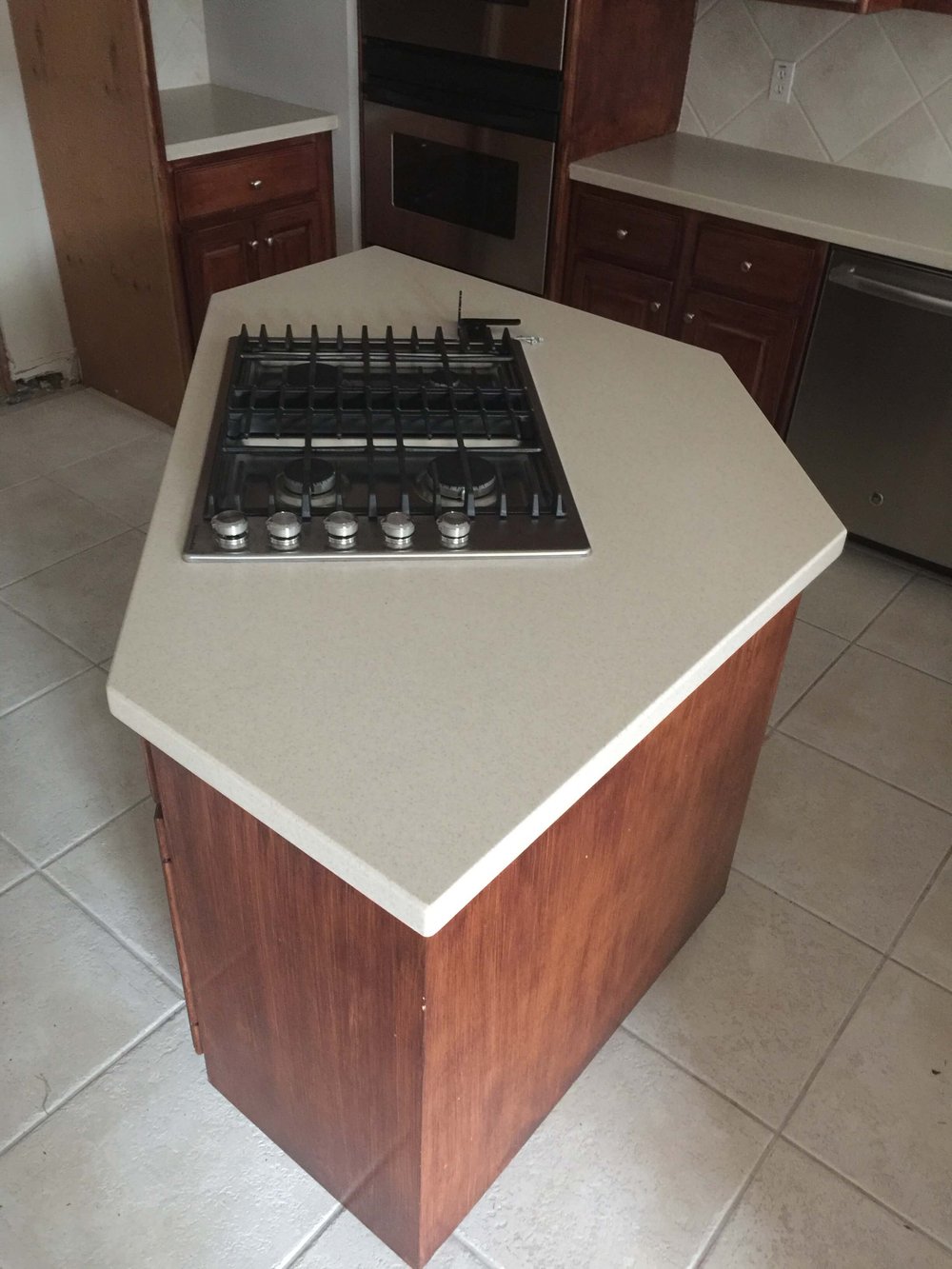 This rather wonky kitchen island below was not helping sell this house, that had been on the market a few months.
We modified it by building a more up-to-date raised bar and getting rid of one of the angled ends. You can see more about this remodel here.
Peninsula kitchens are typically a bit dated looking too, I find people rather prefer islands. Sometimes the kitchen isn't wide enough. But when it is, I like to use an island.
Here was a consultation I did where I shared an option to open up the kitchen as a room more by getting rid of the peninsula and doing a small island. The breakfast area could be nudged down a bit too by doing a banquette in the corner.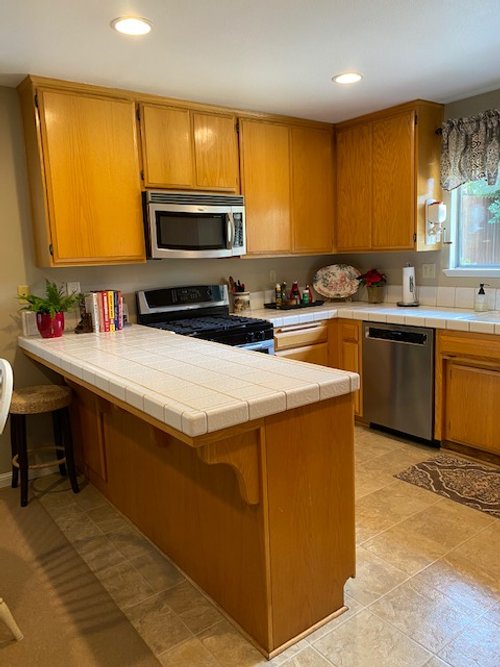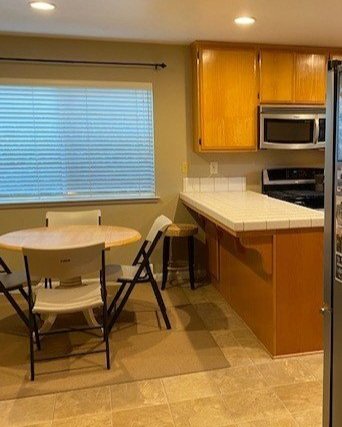 5) Venting Microwave above cooktop or range
I have a blogpost I wrote years ago about this topic. It is rare that I would leave a venting microwave in a kitchen, especially in home.
Here's a project, below, where the microwave was above the range. We did not redo all the cabinetry, but modified it to have a drawer microwave and a new venthood cabinet. You can read more about this partial remodel project here.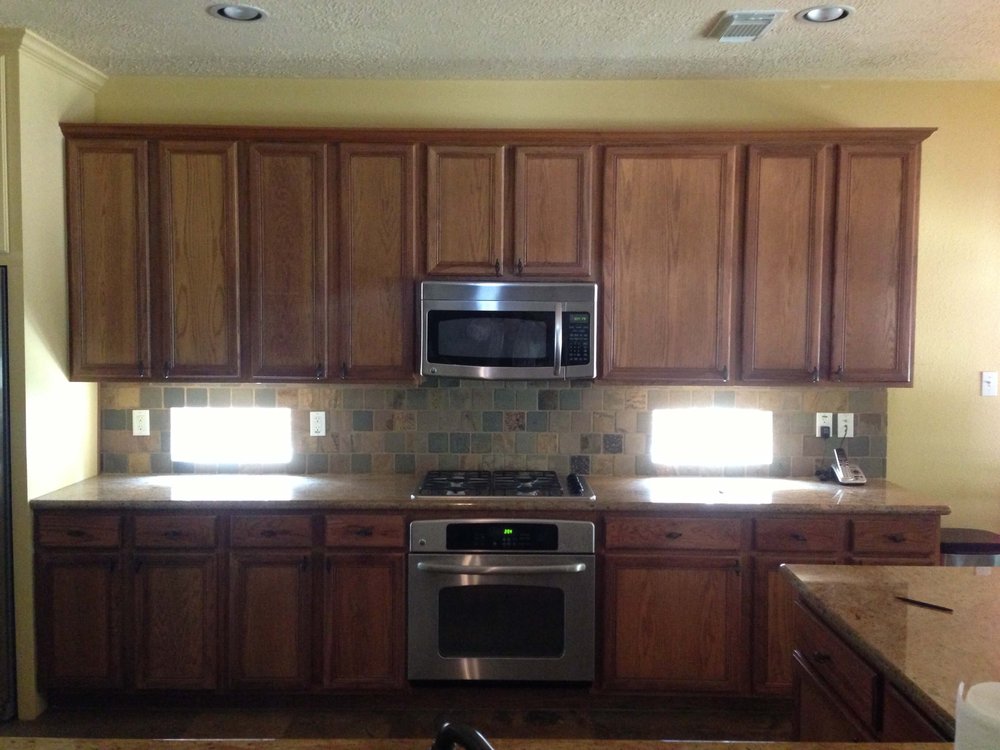 I've left the one in my son and daugher-in-law's townhome where it was when they remodeled, but we just didn't have another a place to put it and the budget was getting too tight. His neighbors all had the same kitchen situation with venting microwaves, so it was typical of that style build in that area.
I totally realize people sometimes cannot do everything, this list is just meant to help guide you in your decisions for a scope of work, in case you are considering a remodel.





6) Refrigerator w/o cabinetry surround
These little cabinets above refrigerators are pretty unusable. They are hard to get to and usually people stack stuff on the fridge in front of the cabinet.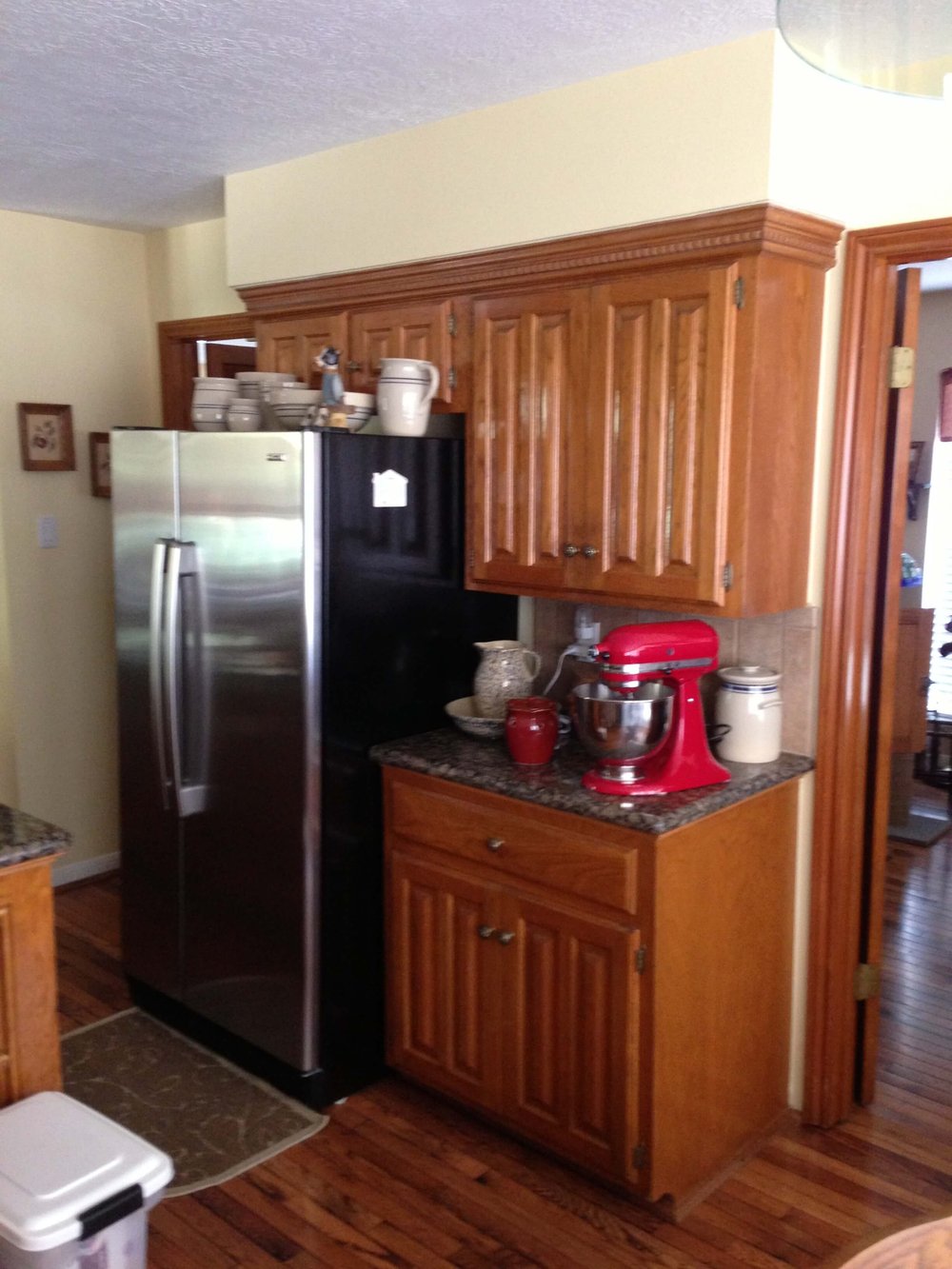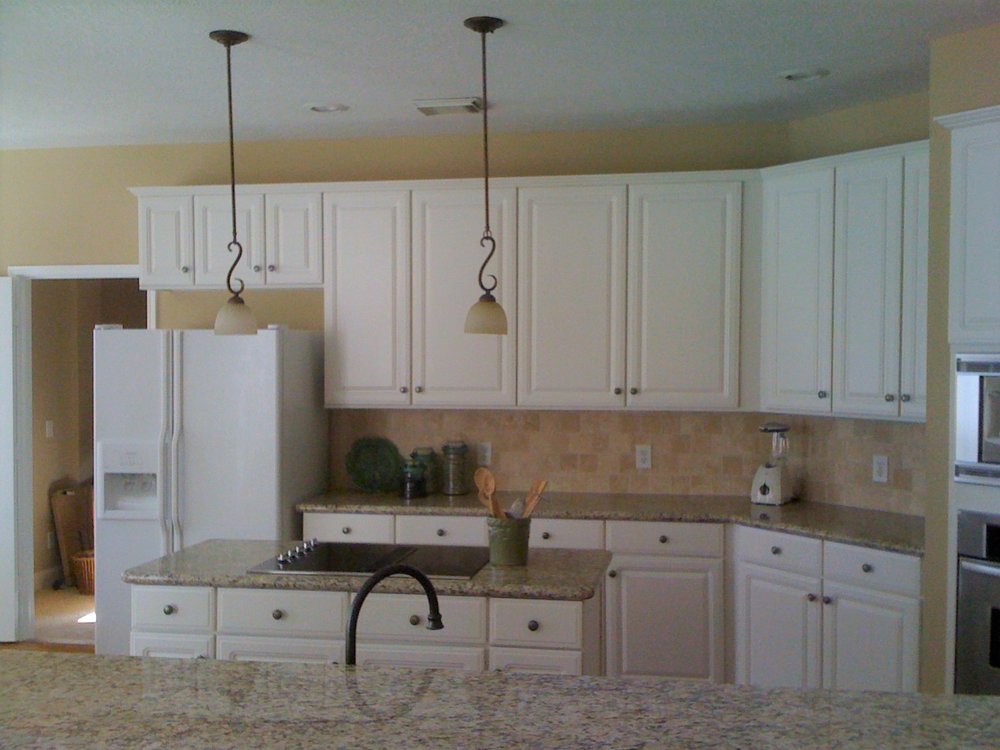 I highly encourage all my remodeling clients to get a cabinet surround for their fridge. It looks so finished and vastly increases the amount of usable storage in a kitchen.
Here's mine after I redid my own kitchen. I love that space and consider this one of my best kitchen investments.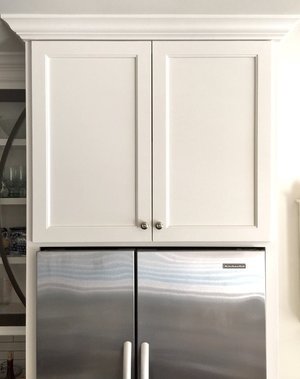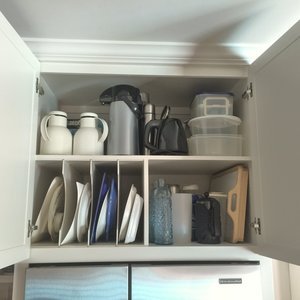 This consultation client kitchen, below, had a small upper cabinet above the refrigerator that was far back and hard to access.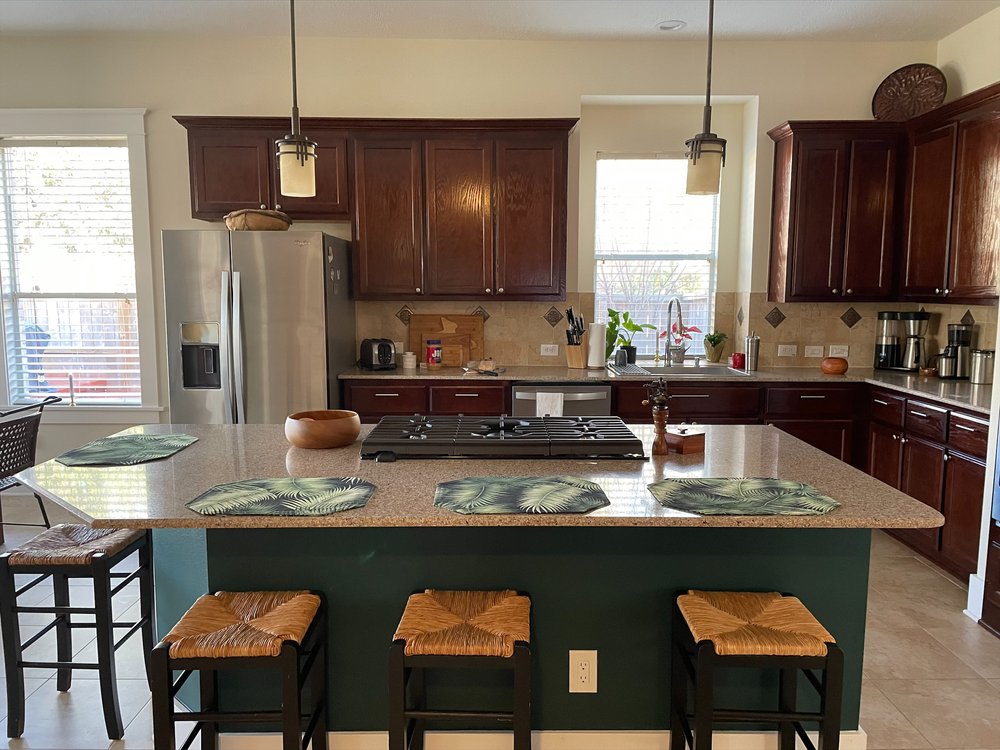 7) Spotty granite countertops
I think everyone realizes this is probably one of the most obvious features in a dated kitchen. People have not been purposefully been putting this stone into their kitchens for about 10 years.
Often this stone was polished and had a bullnose edge. All these contribute to the overall dated look.
I wrote this blogpost on the spotty granite topic back in 2016, so I was done with them then.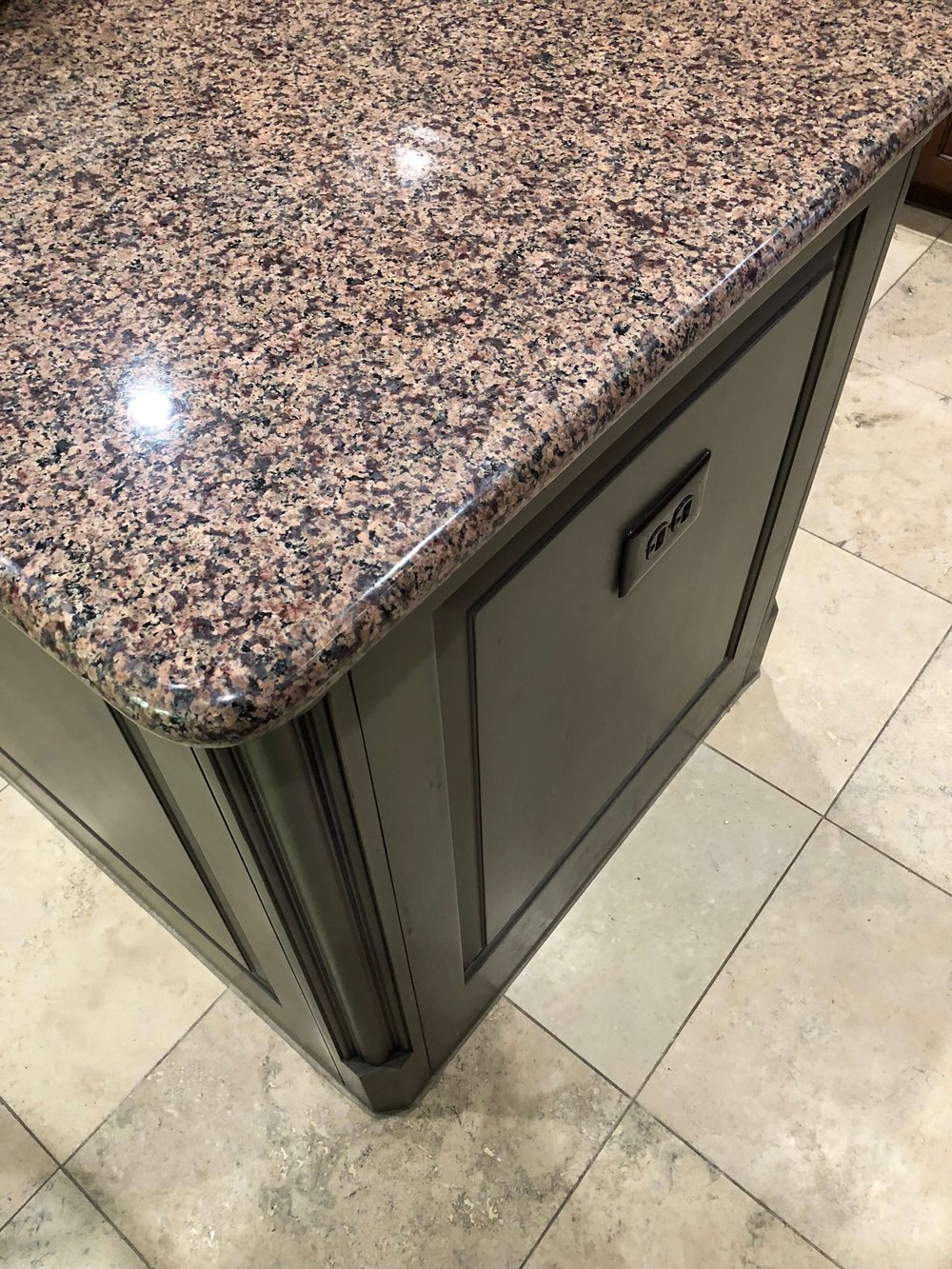 I do have some consultation clients that cannot do that investment of new countertops throughout yet though and hope to get by with them in their remodel.
Luckily, countertops are something that really only the backsplash is installed on top of and new countertops are something that can be changed out relatively easy. It's only like a 1,2 or 3 day mess if you are changing your countertops.
I often will suggest doing the island and backsplash then, thereby minimize the visual of the spotty countertops, like in this kitchen remodel consultation I did some years ago, below.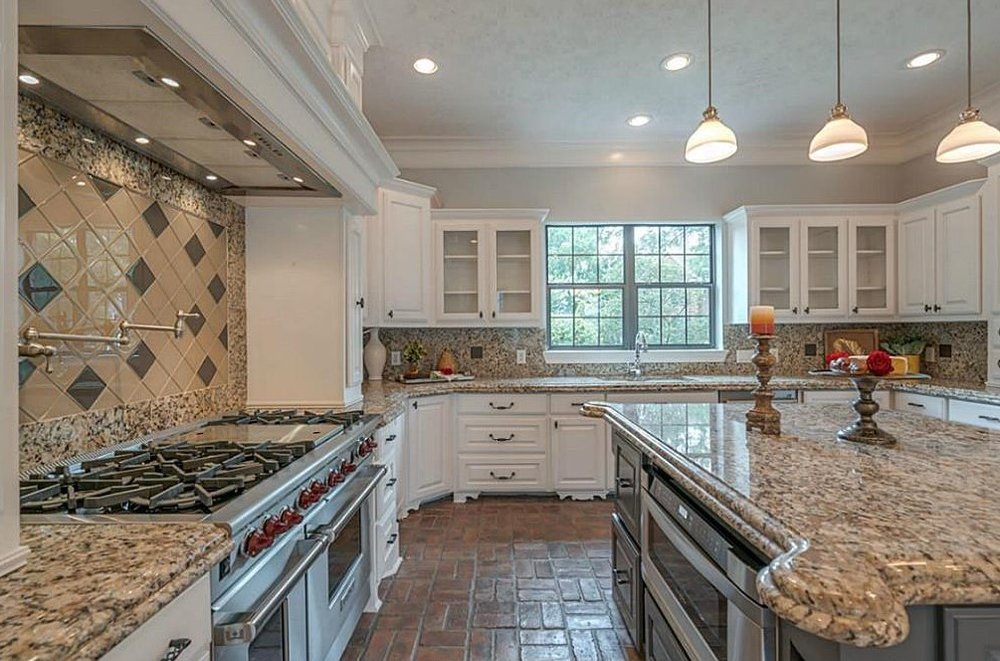 In this Designed in a Click consultation I did some years ago, there was a solid black countertop on the perimeter, so I advised to just change the spotty granite on the island to a white slab to relate to the white kitchen cabinets. The before and after here was quite the transformation.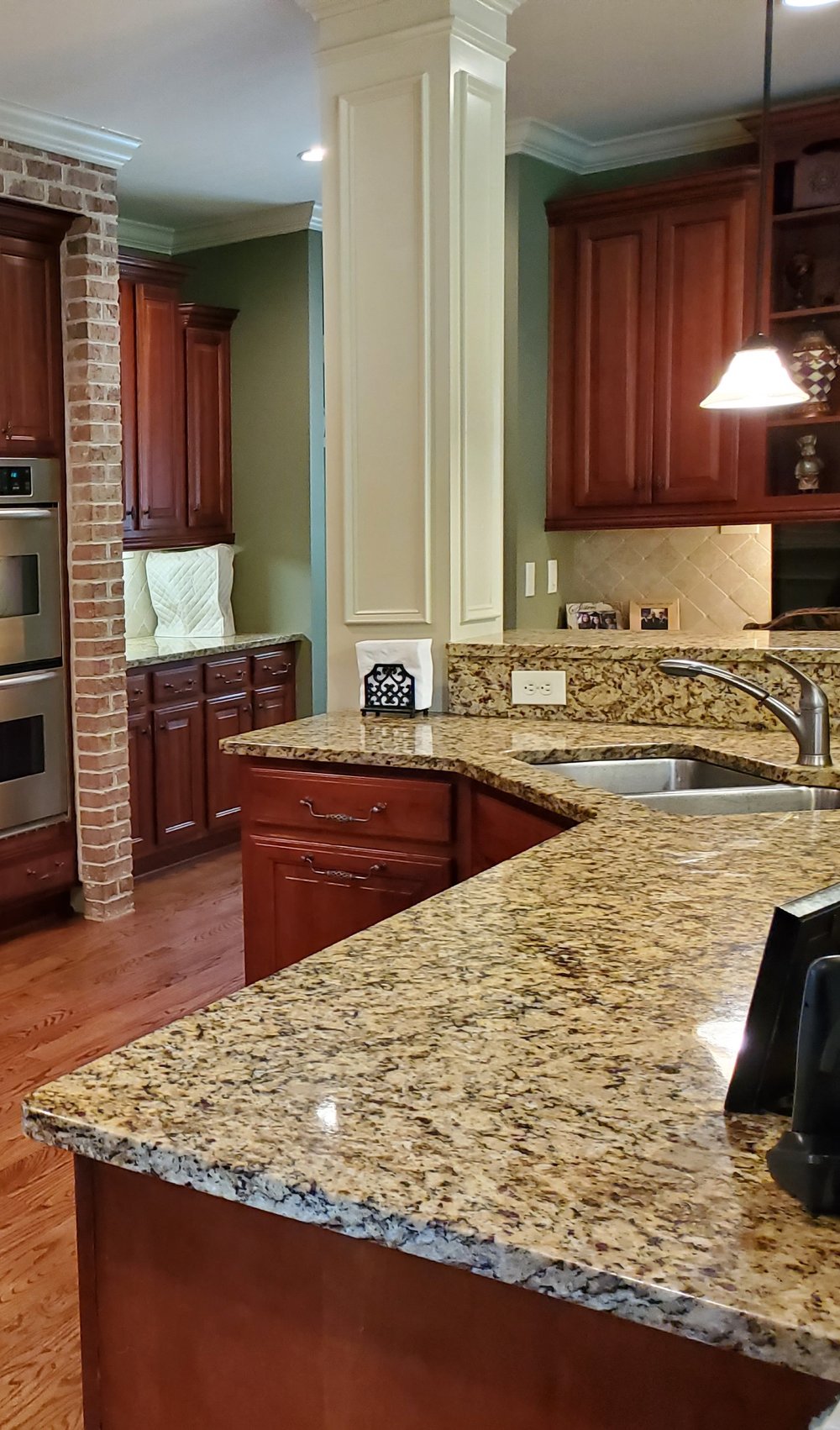 It really depends on the kitchen layout and how "visible" the countertops are overall in relation to the other design elements. If you can update these, however, it is a good idea.





8) Double Bowl kitchen sink
I know personal preference comes into play here, but if you have never used a single bowl kitchen sink, it can be a game changer. I'll never forget the first time I used one, in a vacation rental in California. I was blown away by how easily it accommodated pots and pans and large dishes. Now, I really wouldn't go back to a double bowl, high divide sink unless I was giving up on cooking.
One of my clients from about 5 years ago wanted this low divide, double bowl sink. It's a good option for people that still like some two bowls but want flexibility with large pots and pans.
Most people are not opting for the double bowl. high divide anymore. They are opting for extra large sinks, like galley sinks as a preference.
The reason they are called workstation sinks is because users truly keep a lot of the kitchen prep at the sink, which keeps the rest of the kitchen tidier. We're seeing more and more of these at the national kitchen and bath show every year.
9) Heavy traditional details like rope trim, fluted mouldings, heavily detailed corbels and curly decorative onlays.
There has been a big trend in recent years away from the very traditional details that many custom homes had in the 2000's. Dentil mouldings, rope trim, curly onlays, they really are not typical these days and appear rather fussy and overly ornate.
On a real antique piece of furniture, these details are authentic and gorgeous. In kitchen cabinetry, not so much.
Most people want cleaner lines and less excessive detail in a kitchen now. You can remove some of it, although the surface underneath is definitely affected.
One of the biggest signs of this are the huge corbel brackets, like under a countertop. Now, builders, remodelers, etc. are using minimal steel brackets for supporting bar counters, that can't be seen. As a result, the big traditional corbels look like a style from years ago.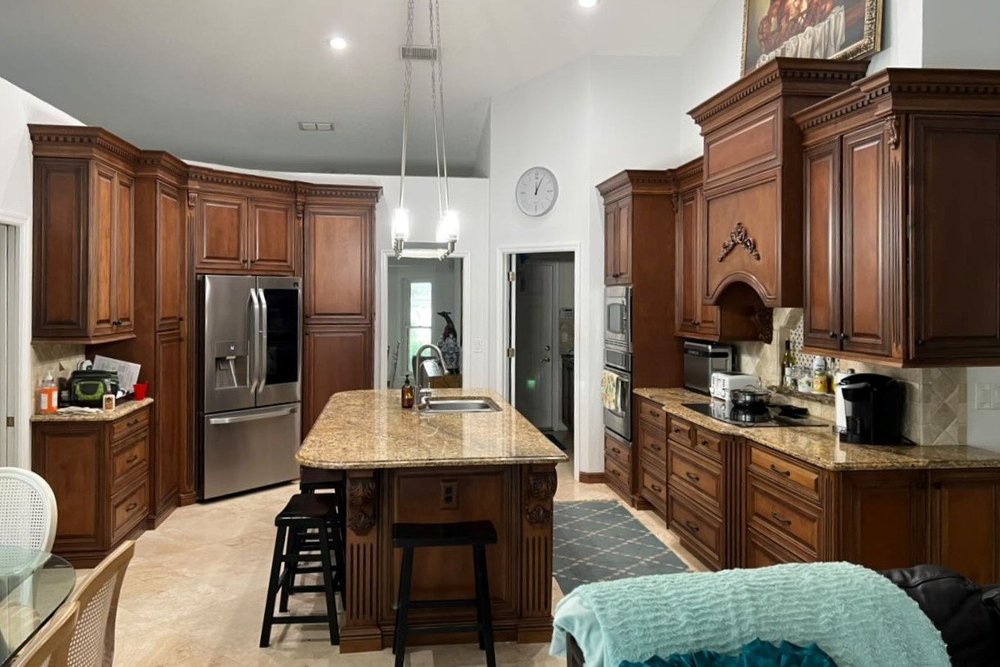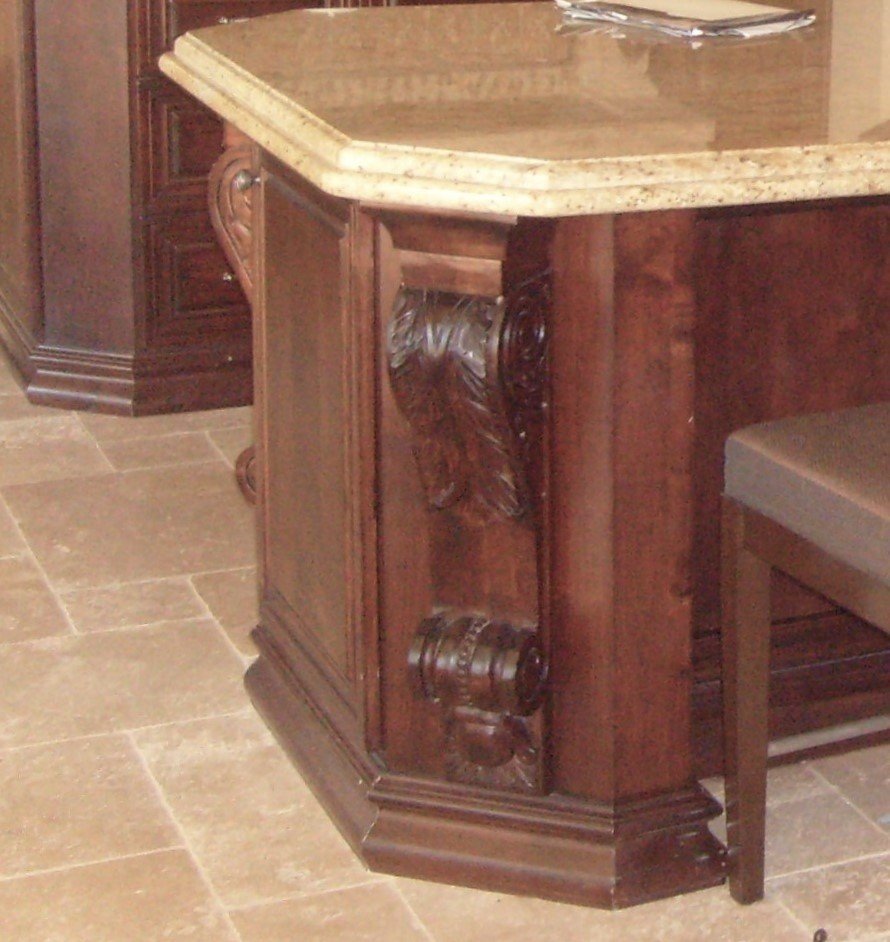 10) Lightboxes and dated light fixtures


20 years ago, lightboxes being done all over our suburb, but if you happen to still have one, take it out if you are going to remodel. Some are just attached to a sheetrock ceiling, some are more anchored up in the ceiling and will require more construction work, but it is worth it to make this change.
Remove them and drop pendants or install recessed lighting to get an updated look.
And by all means, get some new light fixtures if your lighting is over 10 years old and you hate it. Curly, Tuscan style lighting is one of the big items we replace around this area.
Here's a rule with decorative lighting, backsplashes, etc……if you go simple and more plain, there will be less of a desire to change things out when the styles change.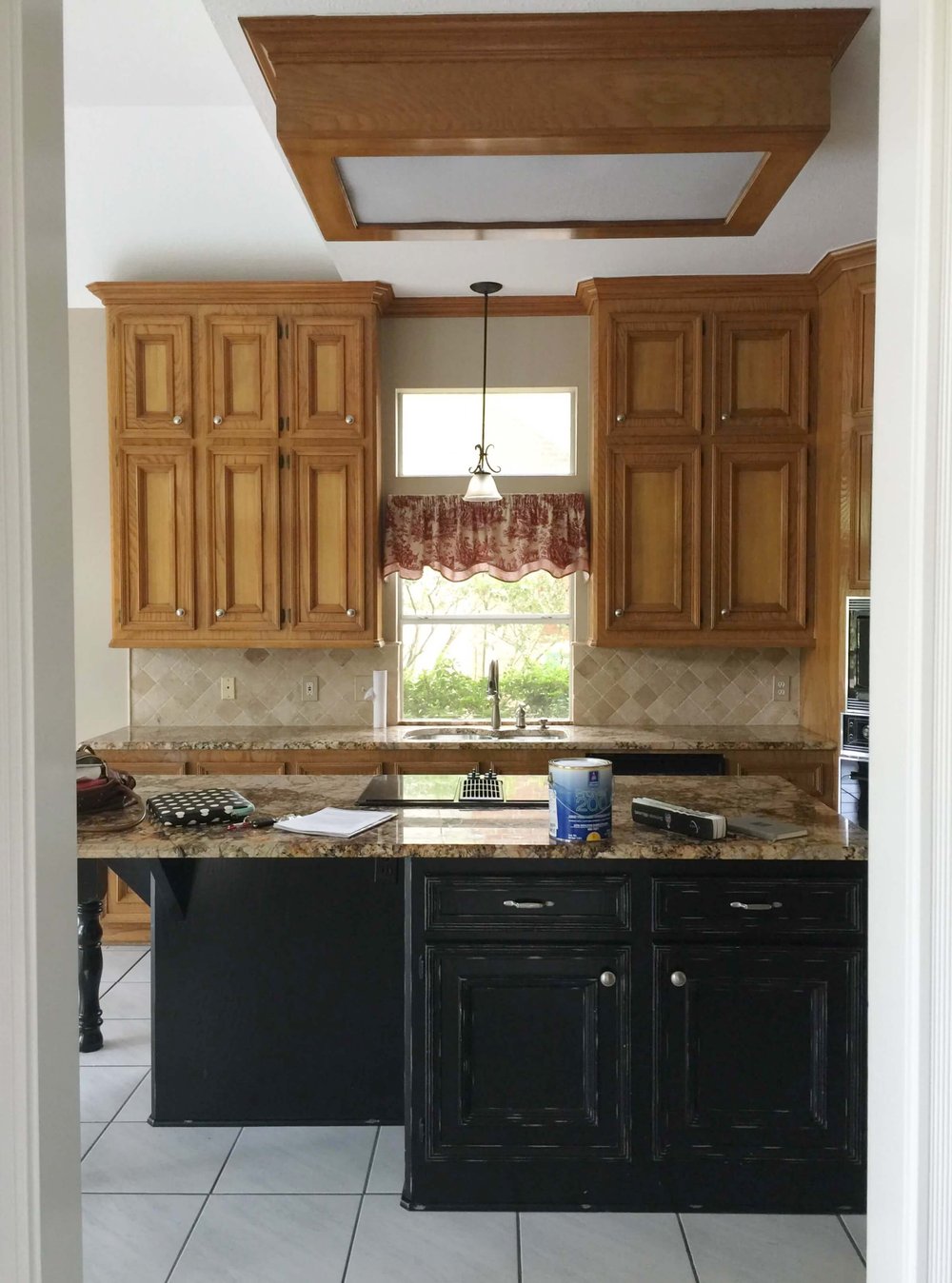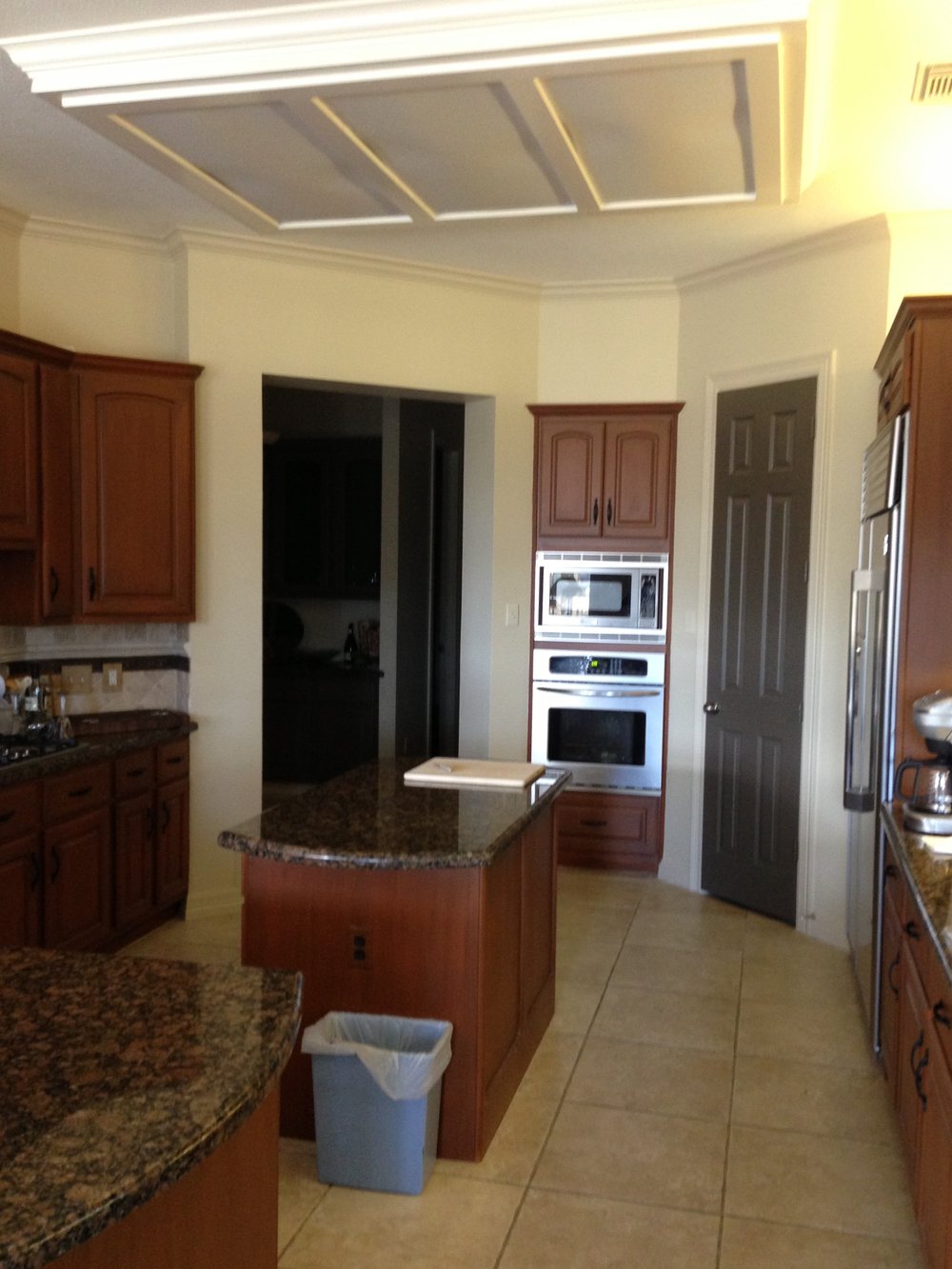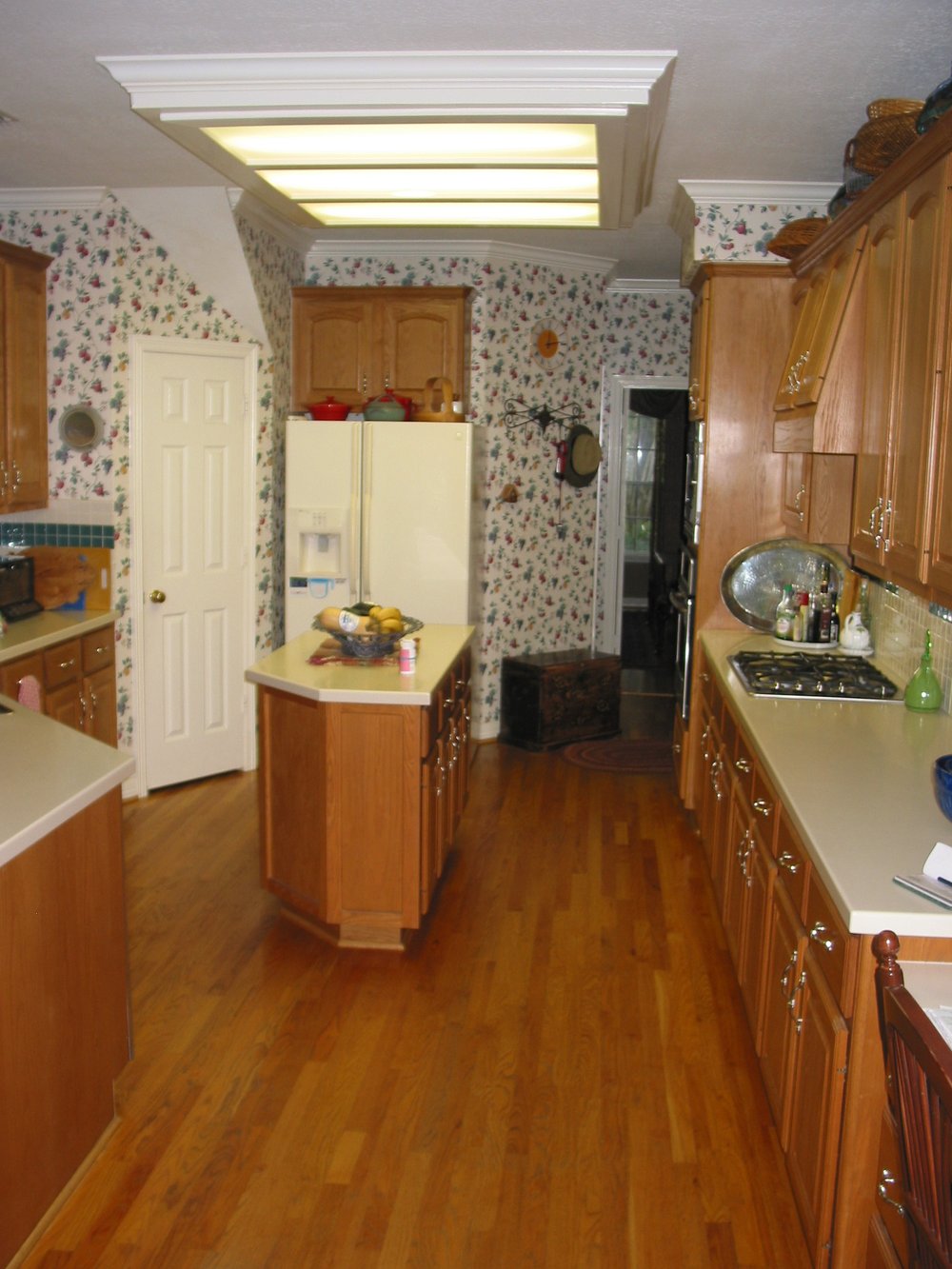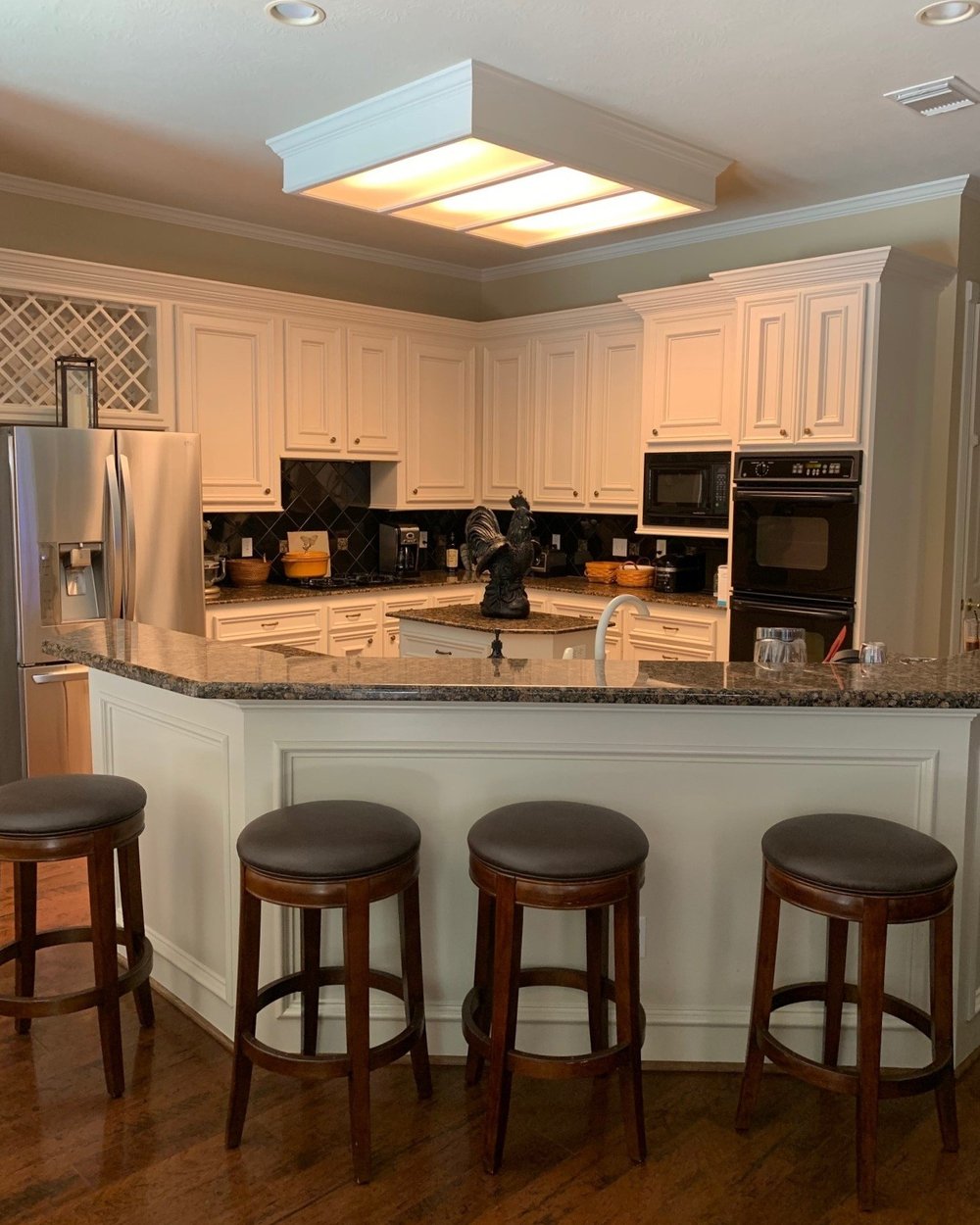 Traditional chandeliers like this one, below, although I wouldn't use it in a kitchen often, are pretty timeless if they aren't too blingy, in my opinion.
Lighting like this, below, feels dated and I'd encourage someone to replace that if they were doing a kitchen update. To me the color of the glass and the extra curly style gives it the Tuscan vibe that is no longer popular.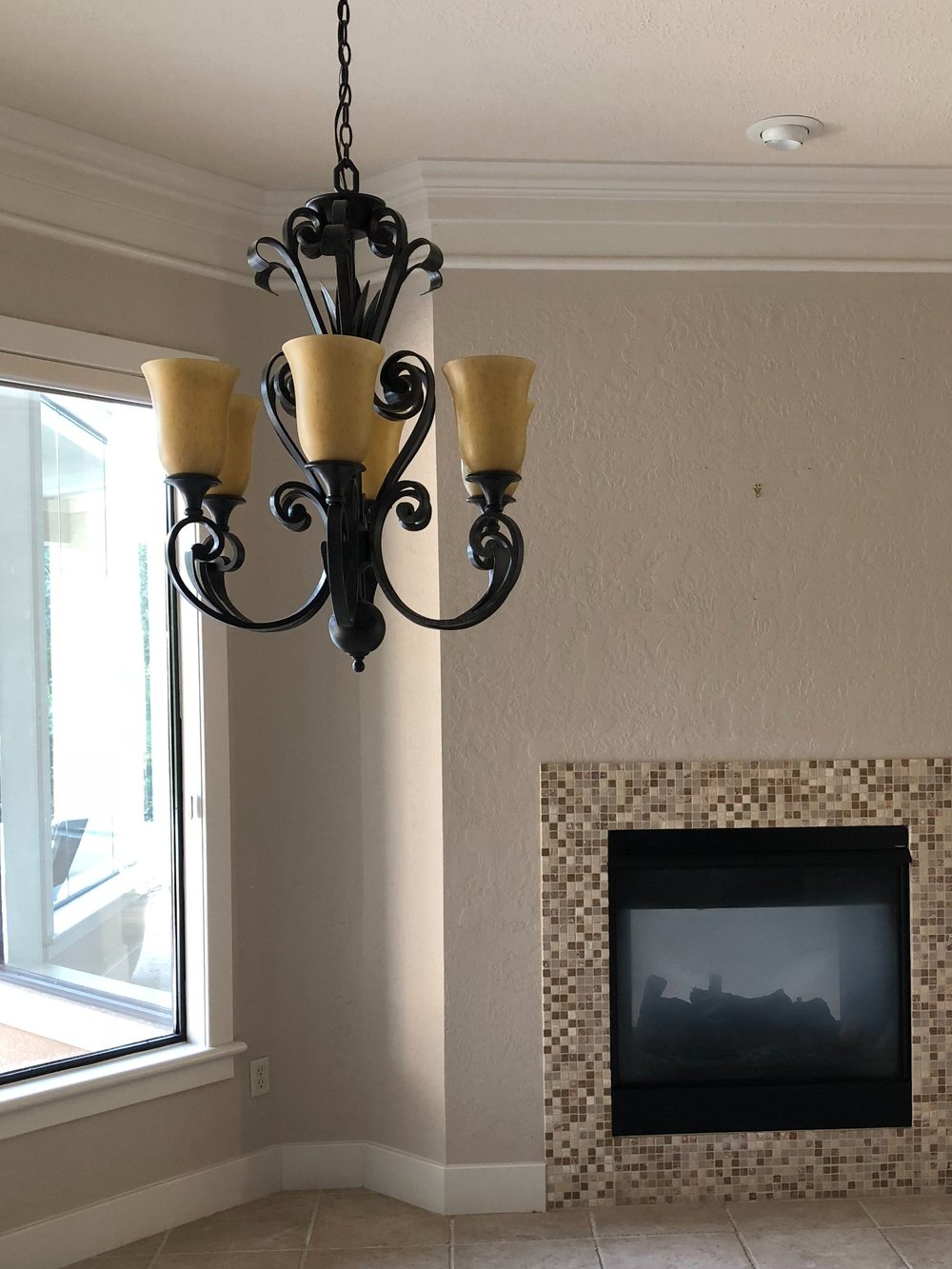 See my upcoming post where I have a few more to add to this list.
I'm heading to KBIS, the national kitchen and bath show at the end of this month and I have kitchens on my brain!
Subscribe below to see all the latest and greatest intros into the kitchen and bath design world and to see my breakdown of what I'd do that 15 year old kitchen now!
Subscribe to my blog for design insights, advice and inspiration sent twice weekly to your inbox. You'll get my FREE guide, "A Remodeling Secret That Will Give Your Kitchen A Totally New Look!", when you sign up. The link pops up right here when you enter your email address below.
Thank you! Here's your guide - Remodeling Secret for Kitchen