Our New Great Room + A Few Favorite Pieces
Now that were finally settling in the new house a bit, its time to start showing you a few of the rooms with actual furniture! Today were talking a bit about the great room and how weve added a few key pieces that absolutely make the space. This post is sponsored by Article.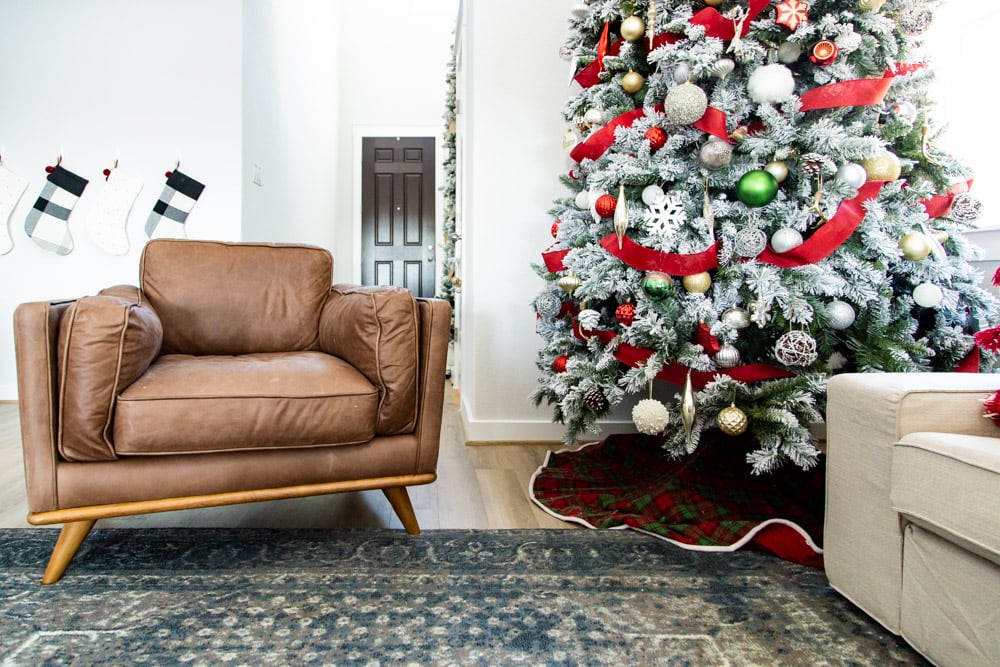 One of the most exciting things about moving to a new home is that it really feels like a fresh start. This time, more so than ever, Corey and I are really taking stock of what we love, what our style is, and how we want to fill our home. Theres something about a completely blank slate that I find so inspiring and so exciting.
One of the spaces we put the most thought into before we even moved into the house was the great room. Weve got one big, long space for our living room, dining room, and kitchen, and while I love the openness it definitely presents a unique set of challenges when it comes to filling the space.
I wont pretend weve nailed it yet well be tweaking things (in both minor and major ways) in here for years to come, but I think for round one weve done a pretty good job of creating a cozy and welcoming space that Im more than a little bit obsessed with.
Today I wanted to take a moment to talk about a few key pieces that really make this room, and share a few of our thoughts for where we see this space going eventually. This is really the heart of our home, its where we spend most of our time, and its one of the major things that drew us to this house in the first place.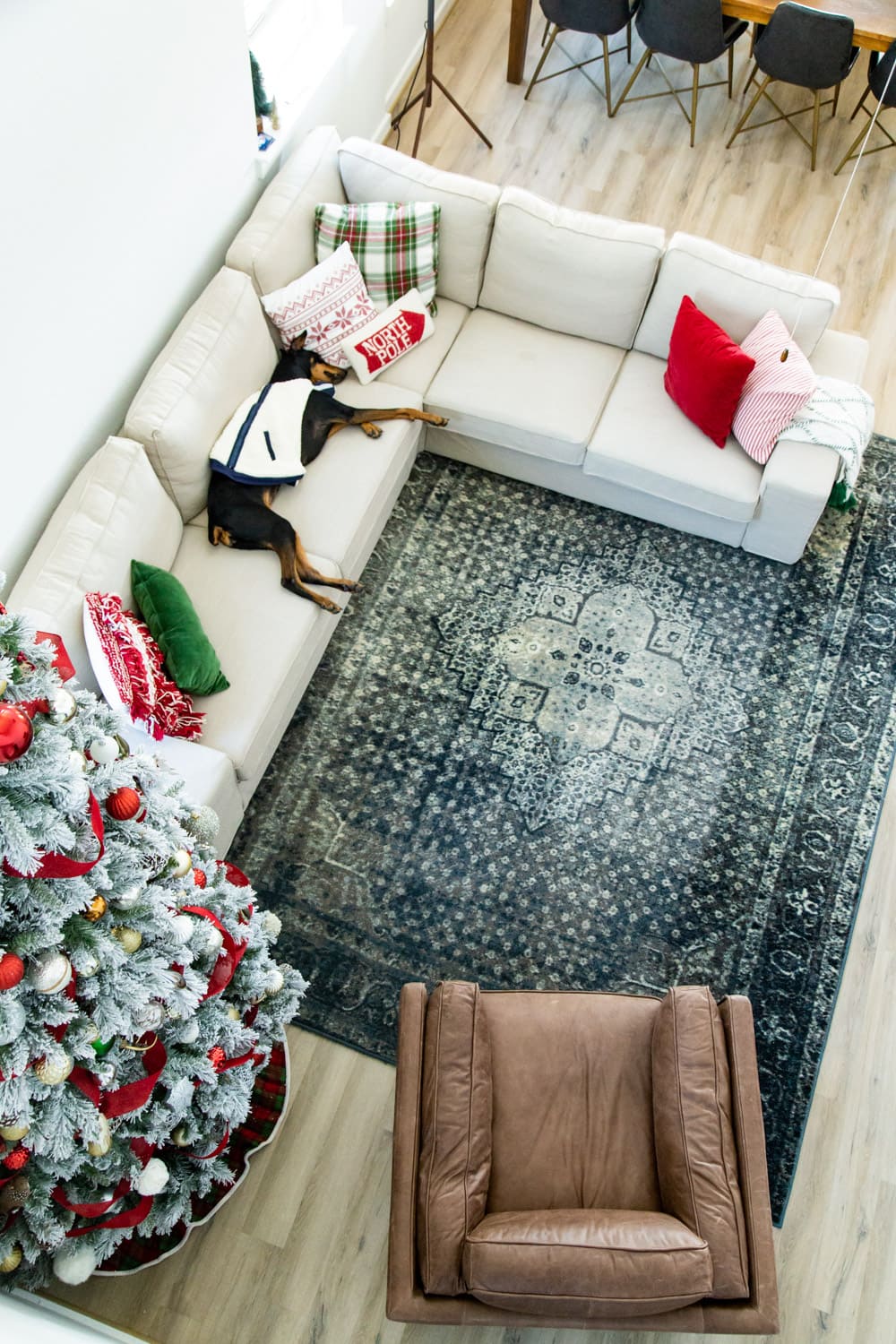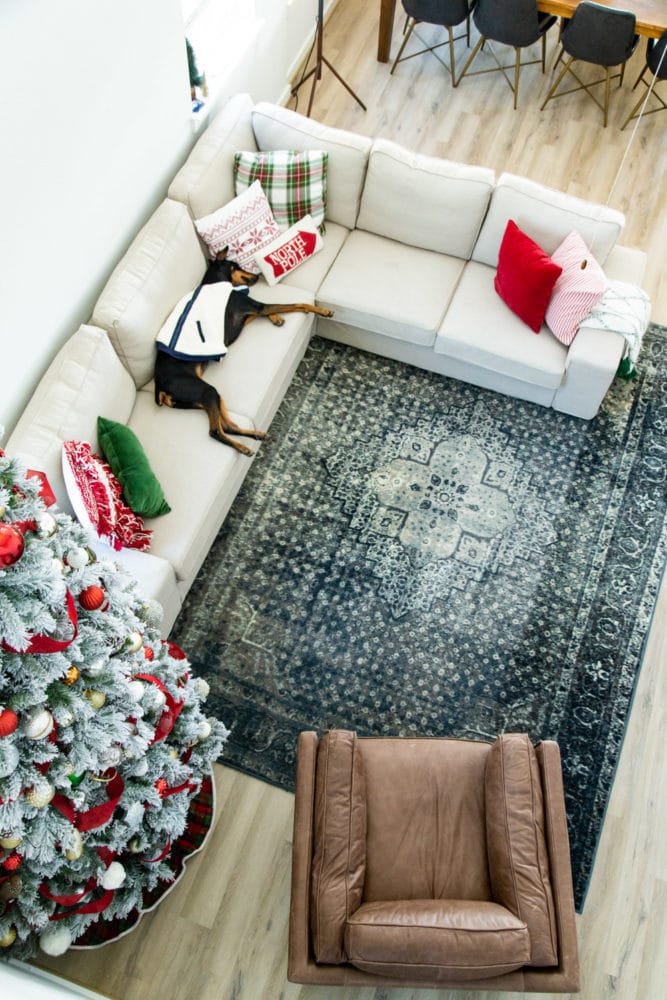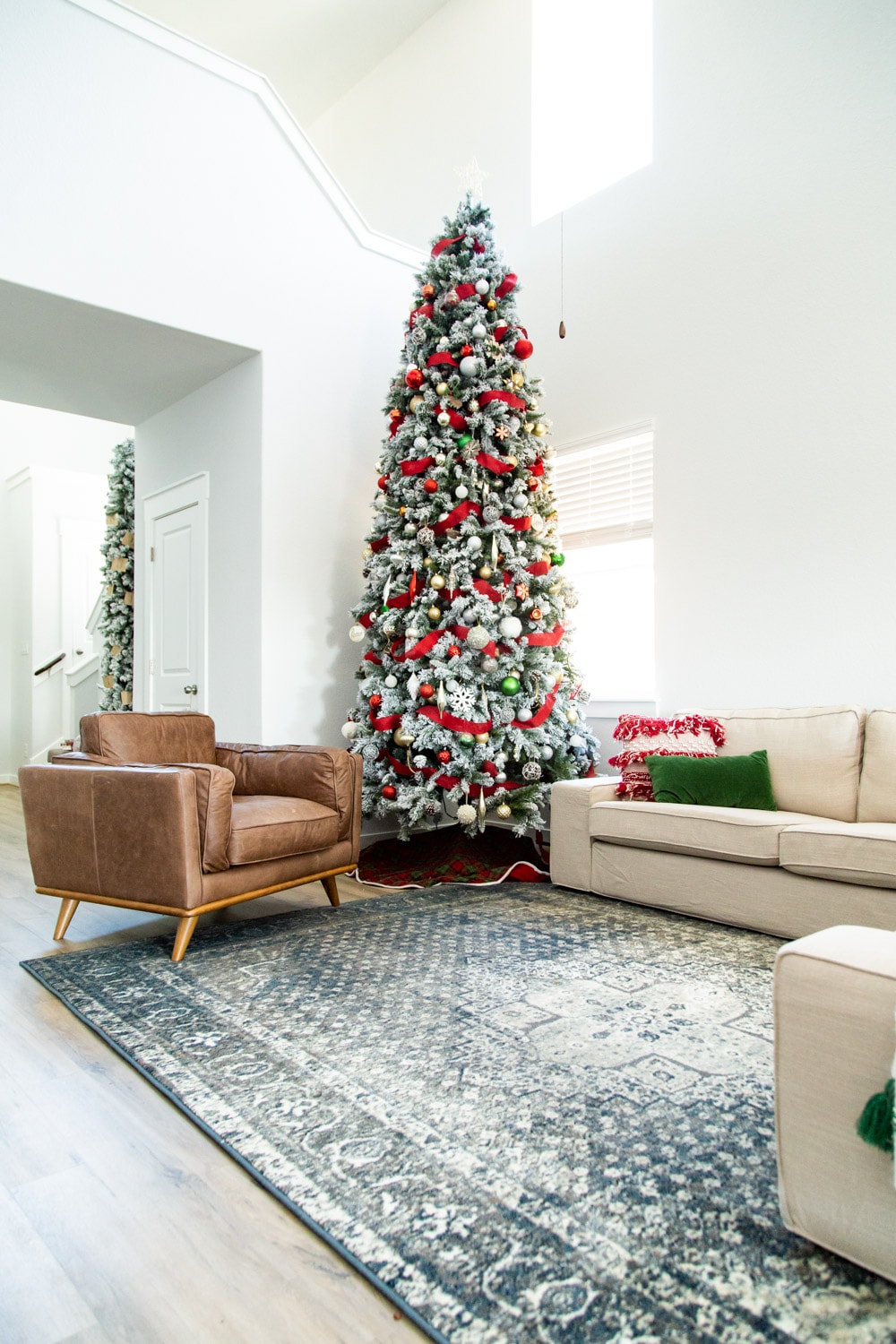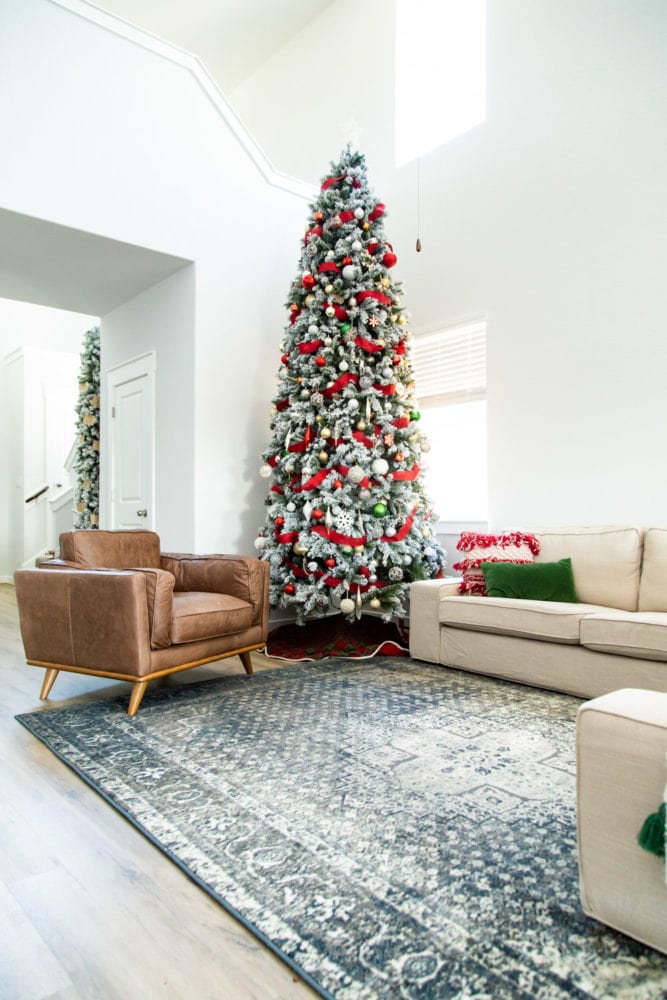 When we decided to move to a new house, the very first and most important thing I wanted to add to our living room was a giant, crazy-cozy leather chair.
I know my priorities, yall.
Ive dreamed of the perfect, huge leather chair for years and years, and now that I was going to have a living room large enough to handle one, I knew it had to be one of our very first purchases.
Corey and I searched all over creation for the perfect chair, but we kept running into the issue that most of them are werent our style (either much too traditional or much too modern its hard to find the perfect middle ground!) and most of the ones we really loved were so expensive it hurt a little. We were definitely willing to splurge on the perfect heirloom leather chair (because itll last us forever), but $2000+ just felt a liiiiitle too steep.
Its gonna sound cheesy, but when I saw the Timber Charme chair from Article, it was love at first sight. It has the modern lines that I love but still feels plush, cozy, and timeless. The chocolat color is the perfect dark and welcoming leather (and its so soft it feels like butter!), and I cant wait to see how it patinas over the years. Its basically the chair of my dreams and I knew I had to have it right away.
We actually considered getting two of these chairs, but we worried it would make the space feel too crowded. Of course, once the Christmas tree is gone and we have a little more time to live in the space, we may end up going back and buying another one.
Because if one leather chair is great, two of them would be even better.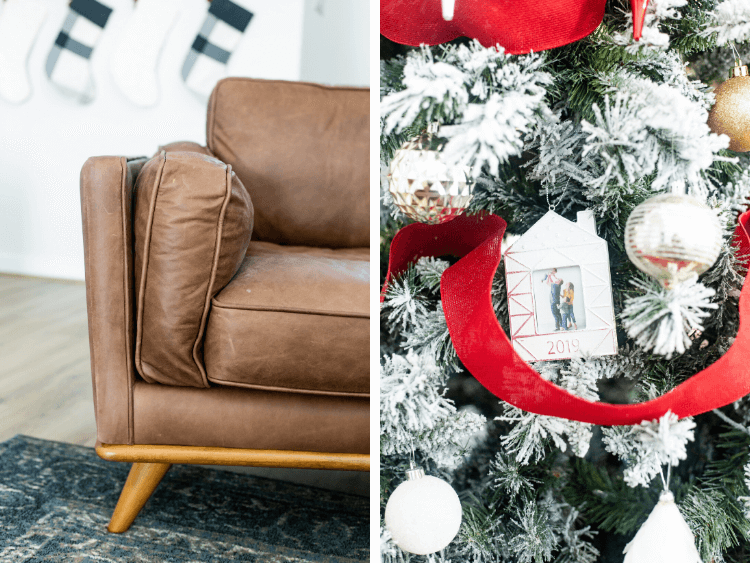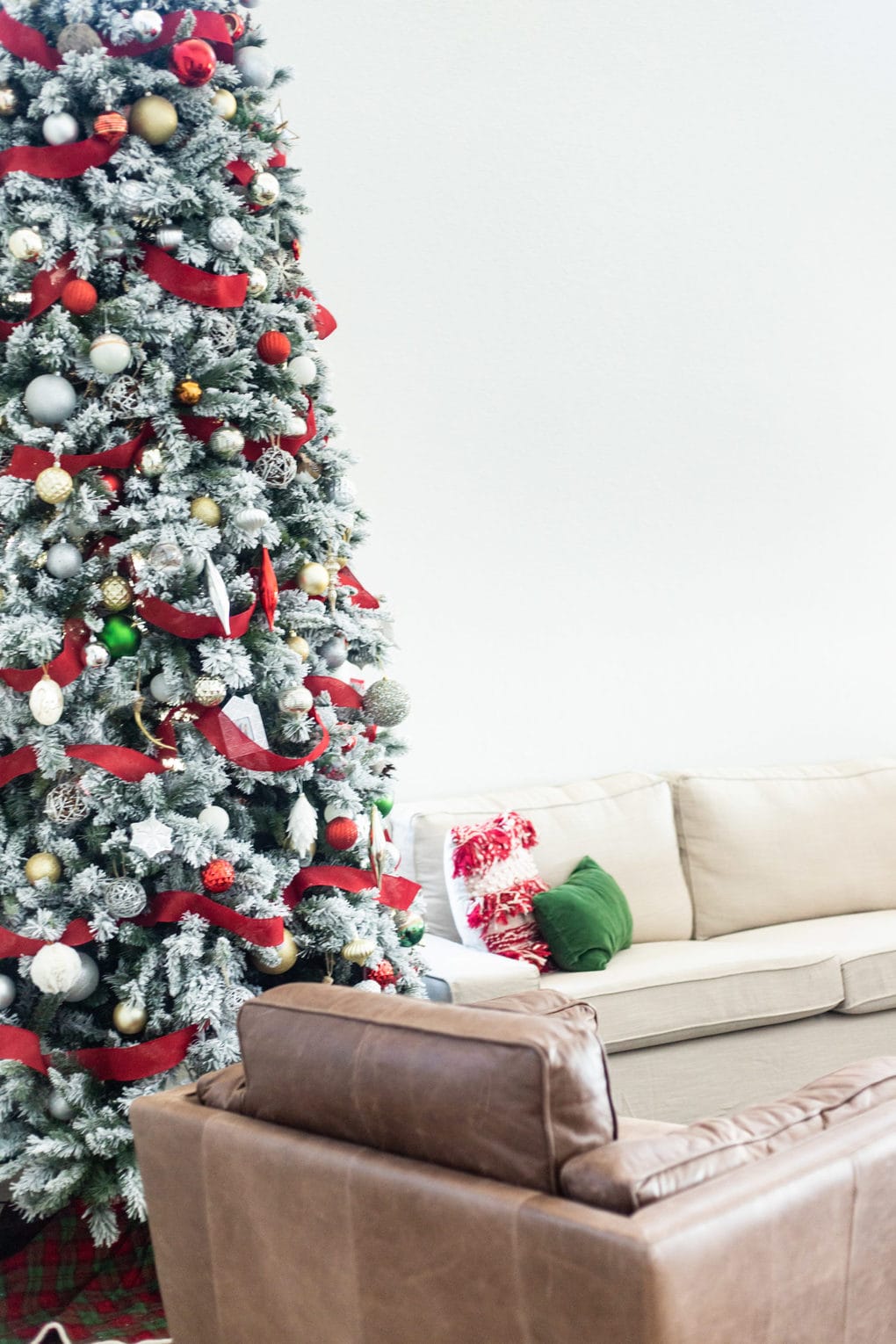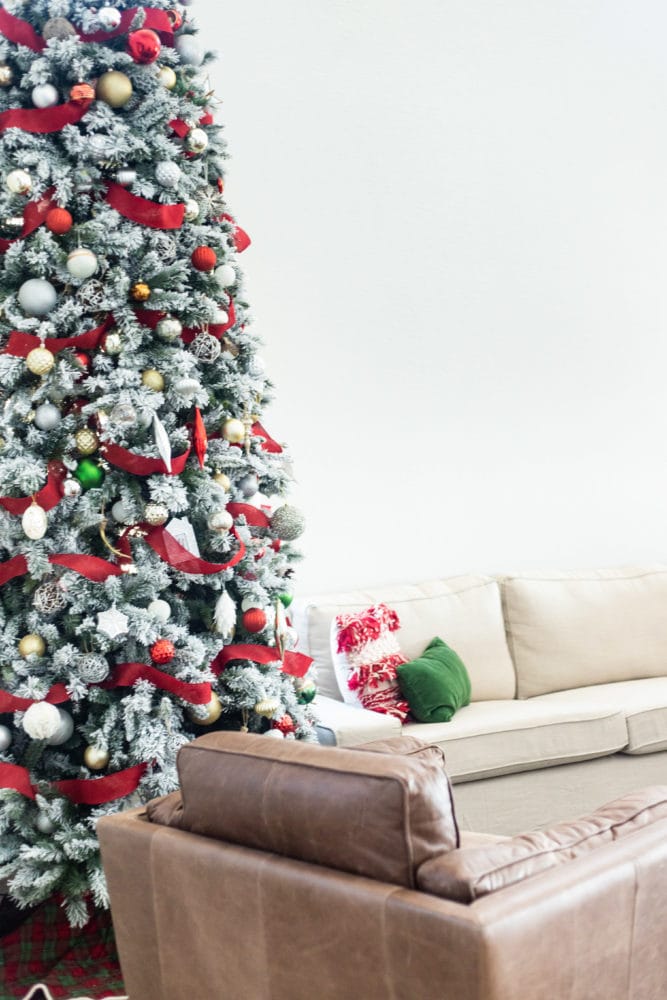 In this part of the room, the only things that we know are staying long-term are the chair and the couch. I think the rug is too small for the space, the console is just a temporary measure until we install a fireplace in here (and then it will move to our bedroom), and while were definitely keeping a Frame TV in here, we arent convinced that this one is the right size (we may end up moving this one to our room and getting a larger one in here).
But, thats the fun of a new house, right?! All the dreaming and planning and tweaking until you get things just right.
And then a little more tweaking just because its fun.
In the future, I picture a gallery wall of some sort above the couch, and something will need to go in the Christmas tree corner for the 11 months that it isnt sitting there. Weve got big plans for a fireplace and Im hoping were able to get it done before next Christmas rolls around.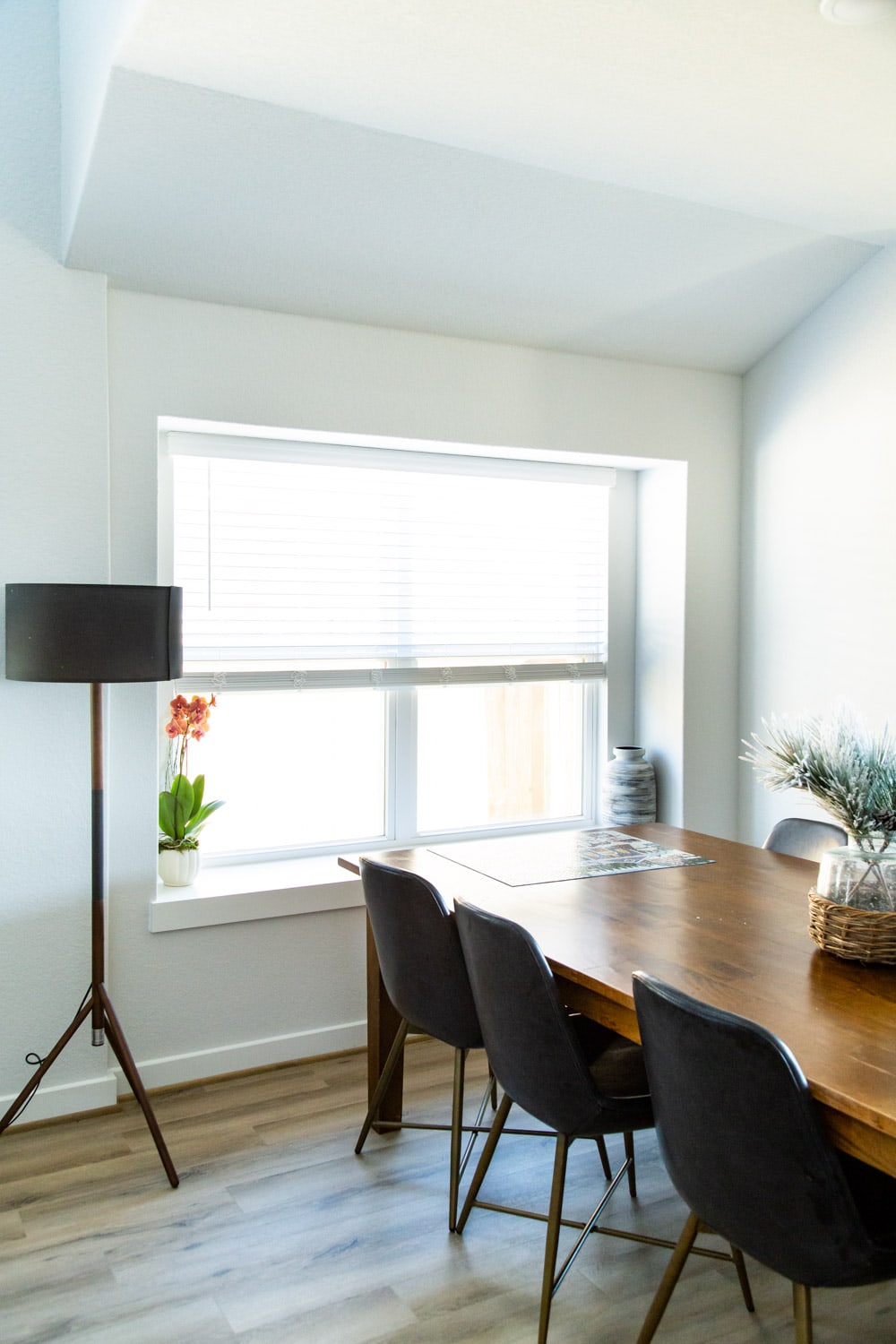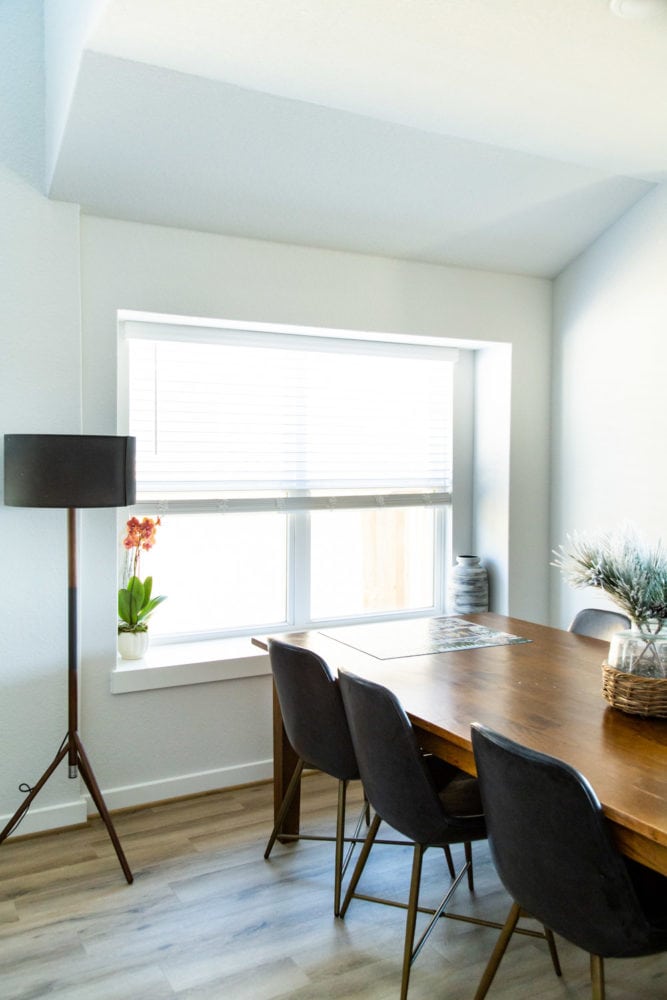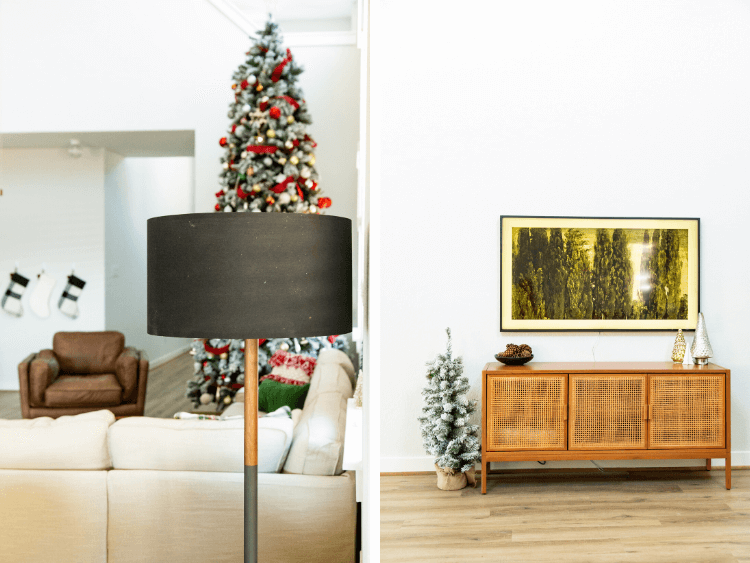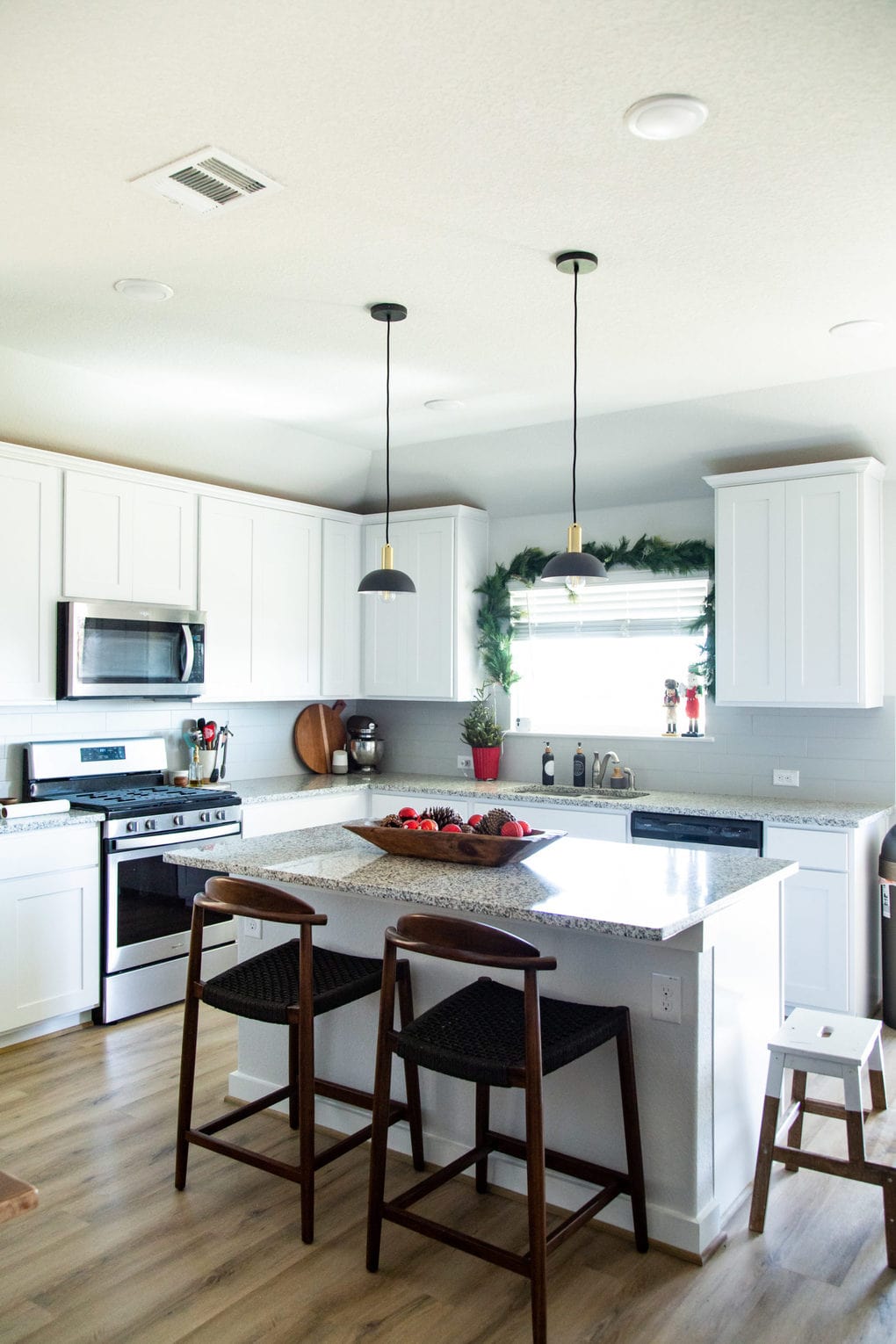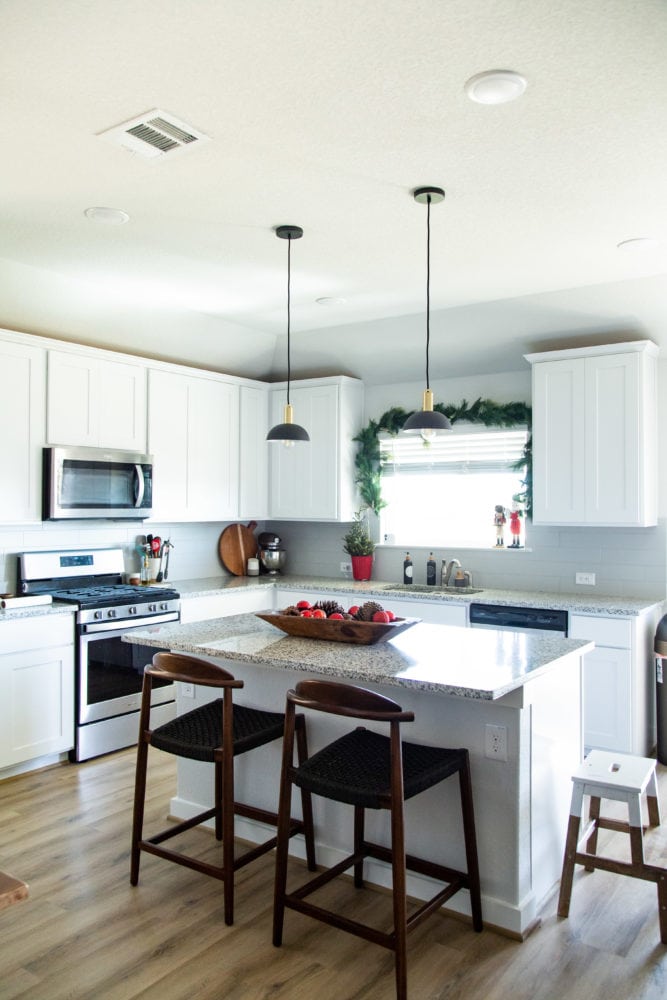 Another thing weve really wanted to prioritize and spend a lot of time thinking about in this home is lighting. Weve never been great at layering lighting in our home with various sources of light, but were taking it really seriously this tine.
Were lucky to be starting with a great foundation because the great room has recessed lighting in the living room and kitchen, plus main lighting fixtures in both rooms as well, so we can easily create different moods depending on how much light we want and what time of day it is.
But, Ive learned that the best way to really make a room feel cozy is to also layer in lamps (and actually use them!). We started with the Stilt Floor Lamp from Article its been years since weve had a floor lamp in our living room and I really, really love this one. The black fabric shade is really thick and beautiful, and I love the clean lines and wood accents. It comes in white too, if you prefer, and even has a fabric-wrapped cord, so its not a huge eyesore.
We also prioritized lighting by swapping out the ugly builder-grade pendants above the island for the Tangent Dome Pendant lamps in the first week of living here. Little changes like that make a big difference in a space feeling like home, and our all-white kitchen was desperately needing a pop of black. I love how they look, and Im so glad we swapped them out right away.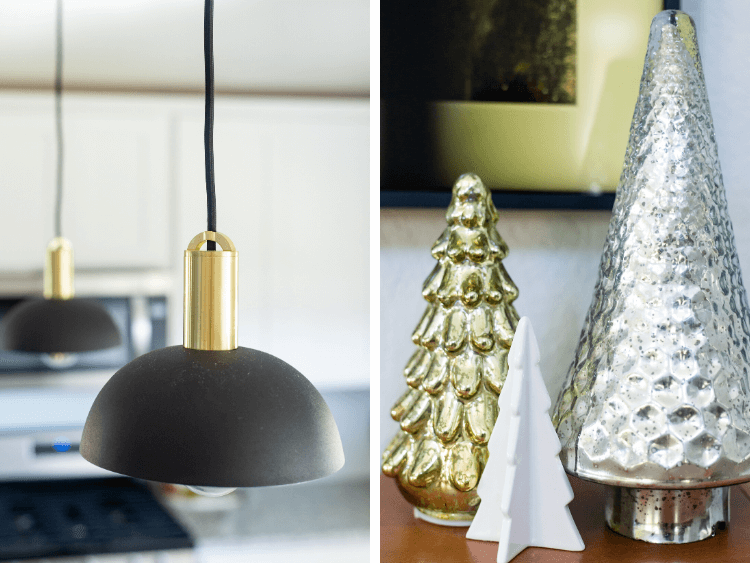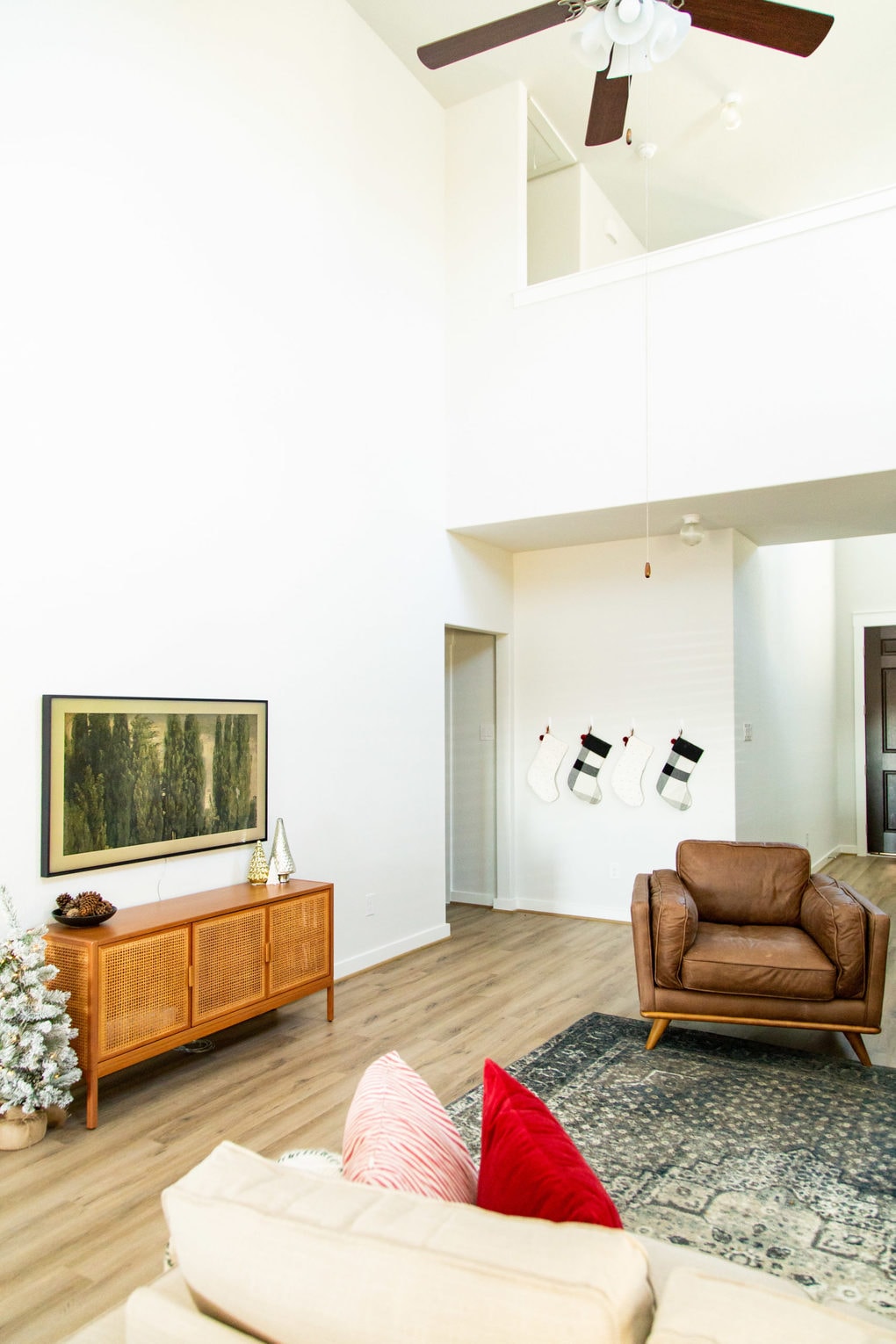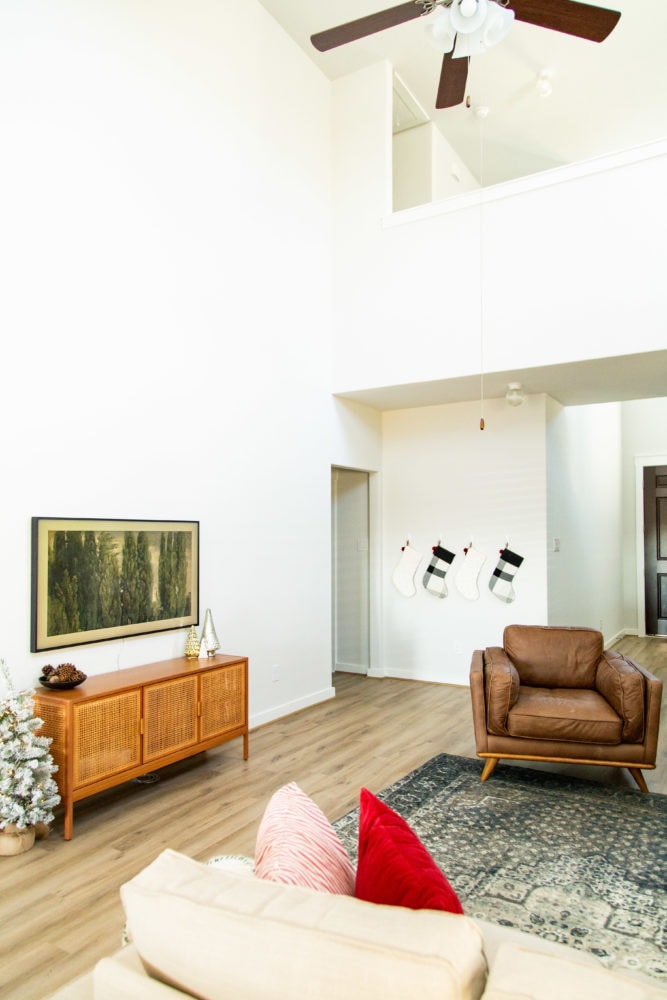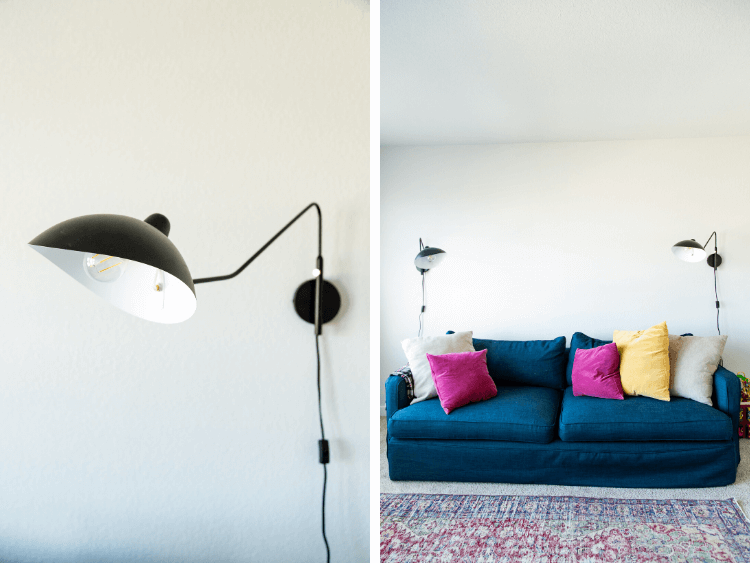 And finally, we also got some Leap sconce lamps from Article with the intent of putting them in the living room behind the couch. But, when we got here we realized we didnt want to commit to that exact placement right away. So instead, we moved them up to the game room its perfect to have them in there because that space only has the one overhead light (for now well be adding recessed lights eventually!), so having some lamps for a cozier lighting option is so nice.
This was our first experience ordering anything from Article, and both Corey and I were highly impressed with the quality of everything we got, especially for the price point. You know were huge fans of any brand that allows us to have beautiful pieces we really love without paying an arm and a leg, and I think Article is going to be a new go-to for us. Ive already got my eye on this loveseat (for our bedroom?!) and this walnut cabinet may be perfect for the Christmas tree corner!
Once again, I have to say a huge thank you to all of you for your excitement and enthusiasm about our new home. It means the world to me that yall are all so excited to follow along on this new adventure with us, and I cant wait to see where this house takes us!
If youre like we were and havent ever given Article a shot, allow me to officially recommend them as a great option for furniture, lighting, and decor in your home. Im definitely adding them into my rotation of go-to places to shop and I love my Timber Charme chair so much I legitimately wish I could give one to everyone I know for Christmas.
I mean, it would be your favorite Christmas gift, wouldnt it?!
The post Our New Great Room + A Few Favorite Pieces appeared first on Love & Renovations.