The Best Indoor Grills of 2020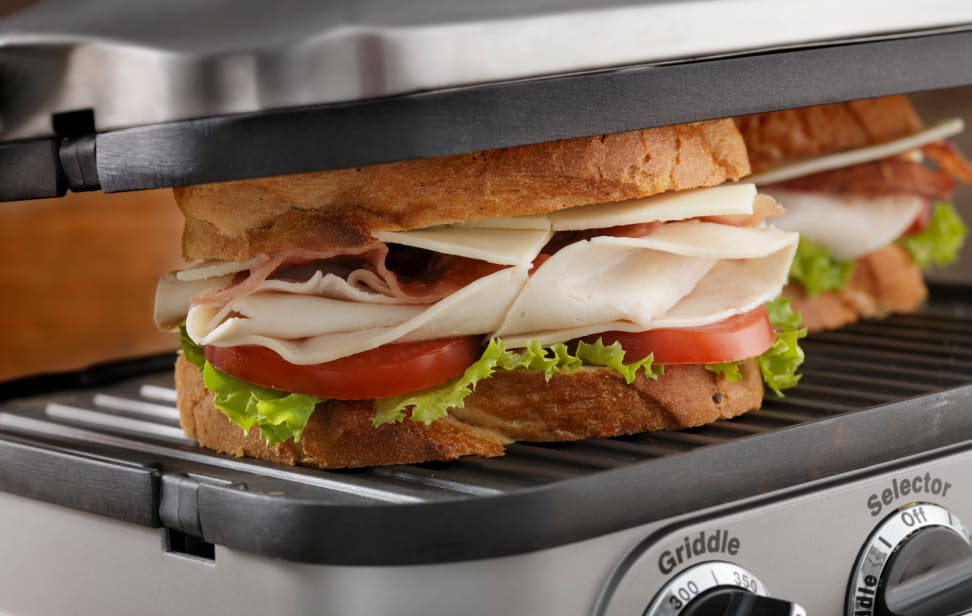 — Recommendations are independently chosen by Reviewed's editors. Purchases you make through our links may earn us a commission.
When you're craving a grilled steak and you don't have access to a great outdoor grill, your thoughts may turn to an indoor grill. These countertop appliances can either have wide, open grates like outdoor grills, or covers that press down on a burger or a chicken breast, cooking both sides at once. The latter, often called contact grills, were made popular for healthy cooking by the George Foreman Grill in the mid-1990s, and are great for making diner-quality crunchy grilled cheese sandwiches.
The best of both types will grill up a burger and cook meat that tastes like summer. While you can make a mean hamburger or sirloin with flavorful browning and crusting with the equipment you already own—a skillet and a stove—you'll appreciate the versatility of an electric grill.
The best electric grill we tested is the Cuisinart Griddler Deluxe (available at Amazon for $159.00). It's packed with features and can be used as a contact or an open grill—and even as a griddle. If you want a less formidable model and to spend a lot less, the George Foreman 4 Serving Basic Plate Grill (available at Amazon) will get the job done.
To help you spend wisely, we chose nine highly-rated grills and used each one to toast bread, grill hamburgers, and press paninis. We then took the top performers and grilled chicken breasts and salmon filets to help us determine our favorites.
Here are the best indoor grills we tested ranked, in order.
Cuisinart Griddler Deluxe
George Foreman 4-Serving Removable Plate Grill
Hamilton Beach Searing Grill with Lid Window
All-Clad Electric Grill with Autosense
Breville the Perfect Press
Zojirushi Indoor Electric Grill
Cuisinart Griddler Five
Philips Avance Collection Smoke-less Indoor Grill
Black and Decker 3-in-1 Grill, Griddle and Waffle Maker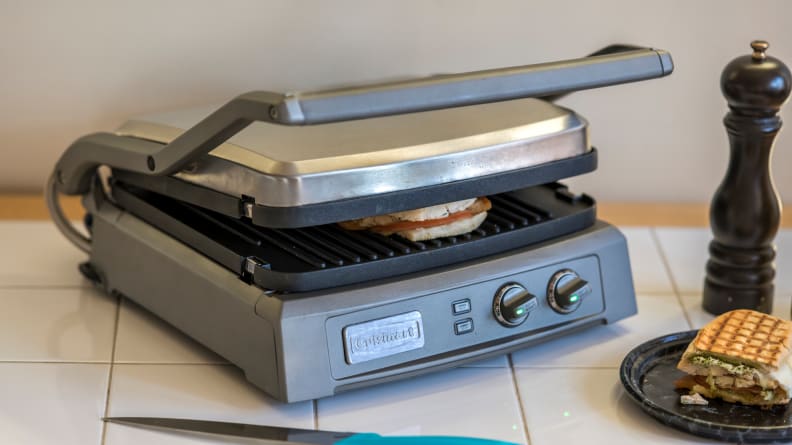 How We Tested
Hi, I'm Sharon Franke, and I've been reviewing kitchen equipment for more than 30 years. Before that, I womanned the grill in New York City restaurants for seven years. It's been a long time since I lived in a house with a backyard, so an electric grill is my best bet for burgers. And as those of you who have read my other reviews know, I'm a pushover for anything crispy. If there's one on the menu, I'll always order a grilled cheese sandwich.
We tested nine grills including those with wide open surfaces and others with lids that close down and cook the food from two sides at once. In each, we toasted bread to see the evenness of the grill's heating pattern and then grilled hamburgers to see how long it took to cook, if it left distinct grill marks, and how evenly it browned. In the closed grills, which are often called contact grills or panini presses, we cooked a thick ham, cheese, and tomato sandwich on sourdough bread. At that point, we eliminated grills that we thought had serious drawbacks. In the remaining five grills, we made chicken breasts and salmon filets.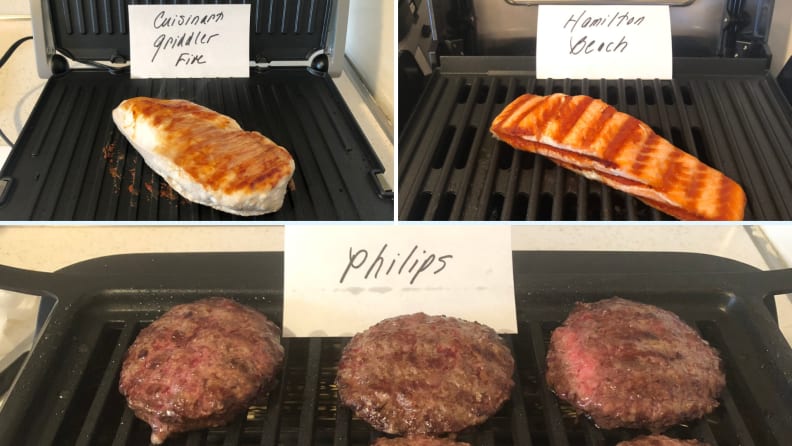 As we grilled, we considered the ease of use of each appliance. We looked at how easy it was to use the controls, determine when the surfaces were preheated, and clean the various parts as well as whether or not there were any safety concerns. Because we know space is at a premium for most of us, we noted how much room they required on the countertop and in a cabinet.
Differences Between Open and Contact Grills
An open grill definitely gives more of the illusion that you're actually grilling. It has a fairly wide grate that sits over a drip pan and you flip food over just as you would on an outdoor grill. While they hold more food at once than a contact grill, they take about twice as long to cook. Plus, they require more countertop and storage space, and their larger grill surfaces and drip pans take up more room in the sink or the dishwasher. In our tests, open grills didn't give us much better results than a closed grill and they can't be used to make a pressed sandwich. For this reason, we didn't select any of the open grills we tested as a top pick.
---
Other Indoor Grills We Tested
More Articles You Might Enjoy